Term 2, Week 9 - Friday 28 June 2019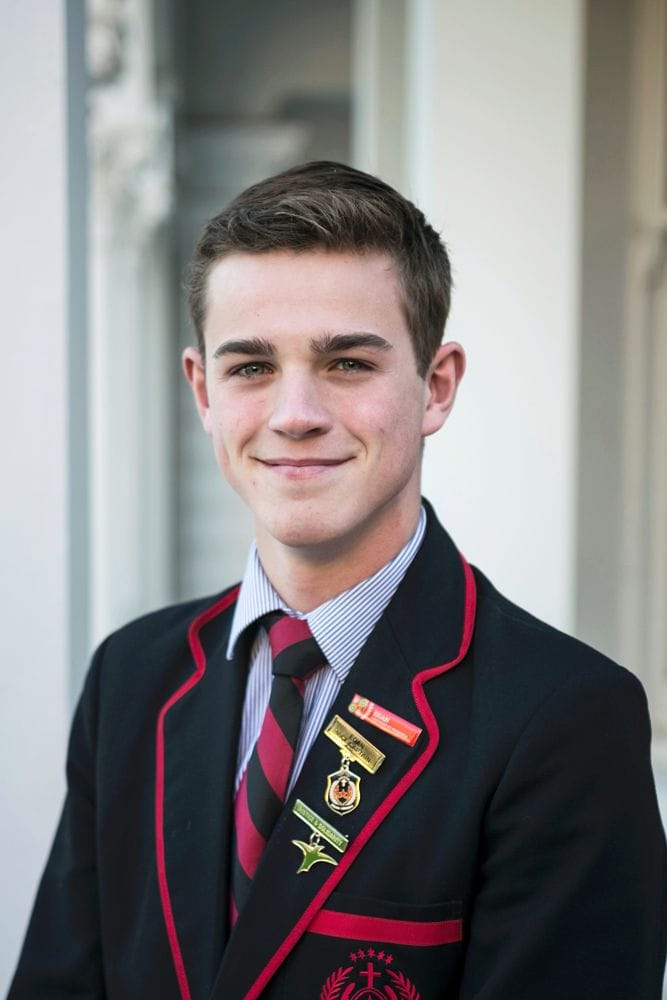 Joshua Rahaley
Head Prefect
Dear College Community,
For the past several weeks the Prefects, in conjunction with the Senior Leadership Team and College Community, have been aspired to reinforce the idea of Rostrevor College as a place where everyone can succeed and be proud to attend. In keeping with the 2019 theme, 'The Year of Legacy', the Prefects have reinstated the past initiative of PC morning clean-ups, where students (under the guidance of their House Captains and Teachers) spend a morning period cleaning up the grounds of the College to reiterate the significance of fostering, cultivating and nurturing our College's beautiful natural surrounds.
The Prefects have also made great progress with fundraising for our charity, Eddie Rice Camps, holding numerous barbecues for activities for such Boarders' Week and country casual day, which highlighted the importance of the comradery between boarders and day students. To date, just under $2,500 has been raised for Eddie Rice Camps, who are facilitating a program on the College grounds during the first week of the school holidays involving the Prefects and some of our Year 11 and Year 12 students.
As we start to approach the highly anticipated Intercol weekend in Term 3 against Sacred Heart College, awareness surrounding the re-establishment of the RBA (Red and Black Army) has risen at an extraordinary rate. The pride that students have in our College is what many would say is the reason we won 2 out of 3 Intercol matches last year and aiming to go for a clean sweep this year. Under the wise leadership of Deputy Head Prefect, Stefan Lanzoni, and Barron Vice-Captain, Samuel Hearn, it's believed that the RBA will be able to make their way down to Sacred Heart and barrack our teams through to a victorious occasion.
Prefects were invited to Loreto College in Week 7 to assist in the Pink Day activities which involved being decked out in as much pink clothing as we could find in our wardrobes. We helped with the cooking and serving of the barbecue and made an appearance at the fashion show.
In conclusion, the Prefects have had a successful and impactful Term 2, working with and alongside other schools to raise money and awareness for worthy causes, as well as enhancing the image and pride of our own great College.
Looking after the College grounds has been a focus of the first Semseter
Stefan Lanzoni
Deputy Head Prefect
As we make our journey into the second half of the year, workloads, pressure and, for Year 12's, the uncertainty of the future, is certainly building up. With so many activities going on within the school community, it's often very easy to be caught in the stress and confusion of looking ahead at what's to come. However, as the term draws to a close, we continue to recognise the achievements so far.
Term 2 has been eventful to say the least. We celebrated Eddie Rice Day with each Pastoral Care group assigned to running a cake stall, freshly made burgers, jumping castles and sporting activities, all of which proved to be popular. Mabo Day was recognised within the school community with a contested footy match between our senior students, as well as a bush tucker barbecue hosted by our Indigenous students.
Within the Prefect group, a large emphasis has been placed upon engaging with our school community in a more active manner. As such, we have continued our regular barbecues and fundraising events, raising substantial amounts of money for the Prefect charity, Eddie Rice Camps. Externally, the Prefect group travelled to Loreto College for the recent celebrations of Pink Day, recognising breast cancer and the detrimental toll it can have on society.
The Prefect group was fortunate in having the opportunity to share their opinion on the new uniform restructure.
As we hand in our final pieces of work, complete mid-year exams and look forward to the holidays, I urge everyone to take some time to stop and reflect. Term 3 looks to be an exciting time for the community and I am sure everyone is looking forward to what is to come.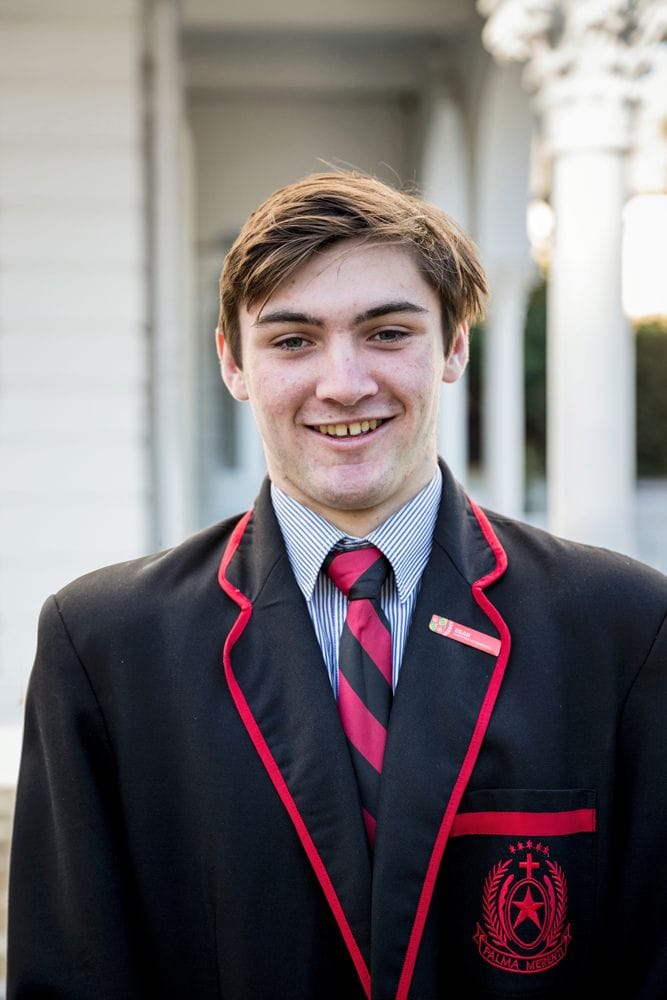 Cameron Taheny
Prefect - Head Boarder
As the end of Term 2 is looming in Duggan House, I would like to wish all members a safe journey home.

Much like last year, the leadership members in the Boarding House decided it would be a great idea to once again involve the Loreto boarders in celebrating Reconciliation Week at our High Tea on 27 May in the Pavilion. We hope that this can become a tradition for many years to come, and plan to participate in some more activities with Loreto by year's end.

Our guest speaker for the evening was Aboriginal documentary filmmaker, Martin Pascoe. Martin spoke to us about the importance of Reconciliation Week and what it means to him. He also shared some of his knowledge regarding the Indigenous history in Australia and conversed about the Elders and Stolen Generation.

We were very fortunate to have Martin join us and we thank him for his time. At this annual dinner we acknowledge a non-Indigenous boarder who displays care for the Indigenous boys within Duggan House with a Reconciliation Award. We congratulate this year's winner, Ryan Lymn.
Staff and students in Duggan House have been busy throughout the term with the weather starting to get cooler and Winter Co-Curricular commencing. Many of the boarders represent the College in a wide range of sports, including basketball and soccer, with the main sport being Aussie Rules. It is pleasing to see a large representation of boarders participate in College First teams each week with many of those playing for our First XVIII footy side. So far this year, the boys have won four matches and lost two. Unfortunately, the two losses have resulted in our elimination from the Knockout Competition. Some boys who have performed consistently well are Hank Burton, Jeb Nettle, Mackenzie Best and Kynan Kenny.

I would also like to congratulate Leonard Ferreira and Kynan Kenny who represented the Northern Territory Thunder State side in their recent Under 18 Tournament.
Reconciliation Week High Tea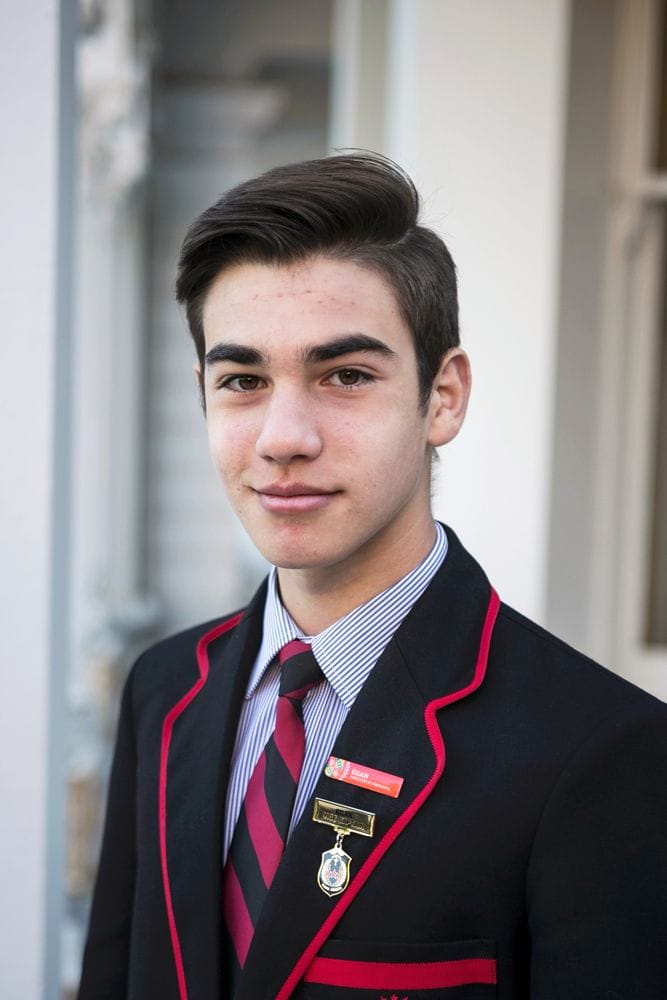 Luca Mazzeo
Prefect - Internal Services
Luca Mazzeo
Prefect - Internal Services
As we progress past the halfway mark of our most important year of schooling, we are delighted to report on the positive progress of our initiatives, as well as the implementation of additional endeavours which improve the welfare of students throughout the College.

As mentioned in our Term 1 Newsletter, the Prefects have been involved in daily tasks which support both staff and students across the College, whilst facilitating our immersion within the broader Rostrevor community. These duties include assisting students with homework during Smart Work Sessions in the Equity Hub and supervising the Glen Stuart Road crossing after school. We have also called upon the Year 12 House Vice-Captains to ensure that all duties are attended to and, after a successful semester, thanks must be given for their unfailing efforts. Fortunately, our contributions have, in turn, provided positive feedback and we hope to continue providing support to all members of the College.
Moreover, Term 2 has seen the implementation of our Prefect Buddy Classes; each Prefect is assigned to a particular Junior Years class to provide assistance. Personally, to travel back to my Year 5 class with Mr Hingston has been a pleasing and nostalgic experience, which has further facilitated my desire to aid in the development of Rostrevor's future leaders. This occurs on a weekly basis as we aspire to maintain the strong connection between both the Junior and Senior Years.

In conjunction with the Community Activities Prefect (Daniel Carbone), Visual Arts teacher (Mr Salini) and student Christian Villani, various designs were conceived for the Year 12 memorabilia items which include a sweatshirt, rugby jumper, cap, beanie and can holder. The design process entailed much discussion between peers ensuring all opinions were considered as well as the construction of countless designs for each product. This process was shortly followed by a survey which allowed all Year 12's to vote for their favourite designs until a unanimous decision was made. We are pleased with the development of this process thus far and are currently working closely with external companies to finalise all products so that they can be purchased during Term 3.

Overall, we look forward to building stronger relationships within the community through our designated roles and aspire to continue promoting a more inclusive and enjoyable environment for students of all ages.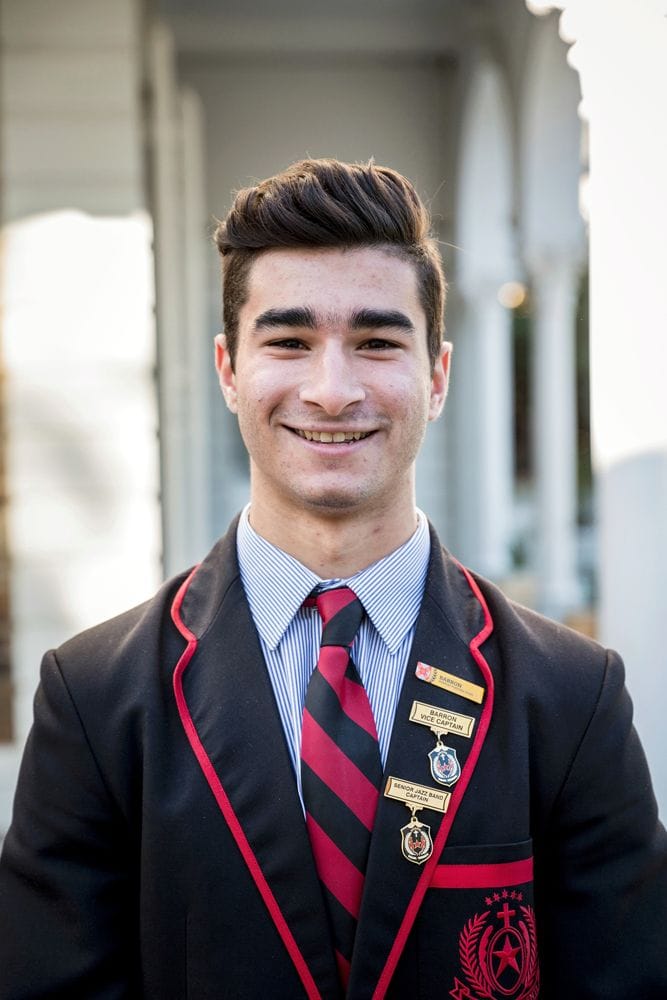 Daniel Carbone
Prefect - Community Activities
We have worked closely with Mr Ranaldo and other staff members to achieve something that hadn't been done before,
removing the varsity jacket from the end of year memorabilia order and making it available for the Year 12 cohort to purchase in Term 2.
With significant help from fellow Prefect, Luca Mazzeo, and talented staff member, Mr Salini, we were able to design the varsity jacket and then survey the cohort to obtain input on the preferred design. By the end of Week 6, we finally received our varsity jackets making the wishes of many Year 12's come true.

I would personally like to thank Luca Mazzeo, Christian Villani and Mr Salini for their valued help in designing not only the varsity jacket, but all the memorabilia items that will be available for the Year 12 cohort to purchase during Term 3.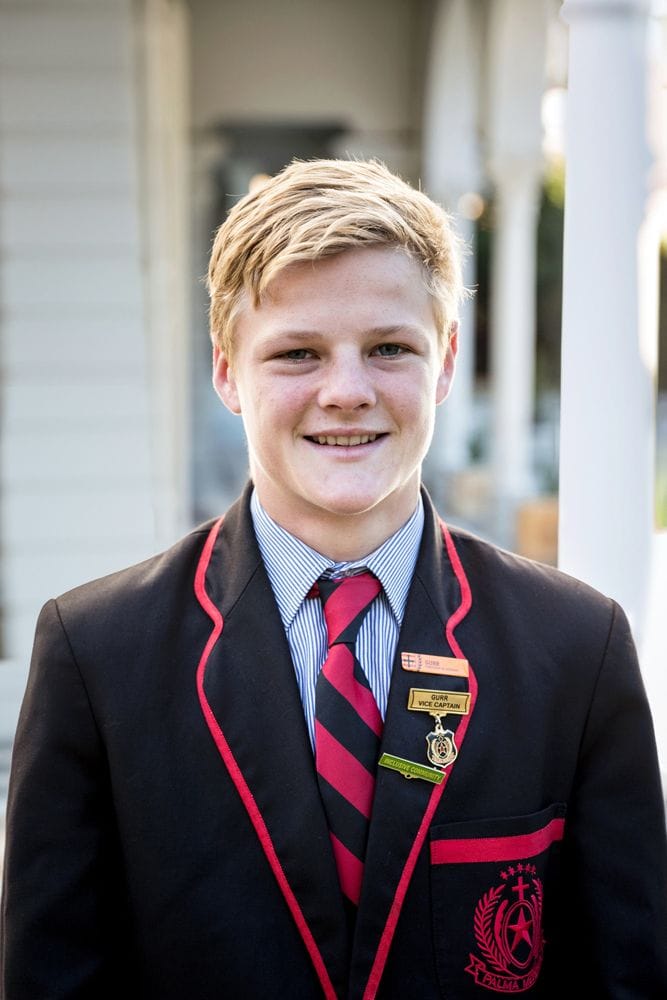 Nathan McCarthy
Prefect - Social Justice Captain
Over the course of the term, the Social Justice team has been able to think and work on some very important issues in our community. We had lively and informative meetings where we discussed many of the Social Justice issues, not only in our own community but issues that affect our nation and our global community. We talked about how we, as Christians, and 'men for others' in a Catholic School founded on the beliefs of charity by Edmund Rice, should respond. We thought it would be a good idea to help some of the homeless people living on the streets by promoting and participating in Vinnies 'Lighten the Load' Campaign. Our aim was to increase awareness of homelessness around us by encouraging our school community to donate clothing, toys, blankets, etc. to the cause. This was a huge success with over twelve bins being filled with goods that can be used by those who are not as fortunate as us.

This demonstrates how every one of us can make a difference to the lives of others. Even a small donation of something that we no longer use might potentially have a big impact on another person's life. As the leader of the Social Justice team, I strongly encourage everyone to reflect on small things that they can do which might make a bigger impact on others. In the current age when the media constantly bombards us with stories of huge global problems that we feel powerless to change, we need to think about the small things that we, as Christians, can do for others.
A blanket that you may have stored in the cupboard for three years might keep a child warm somewhere this winter if you donate it to Vinnie's; a few dollars donated to a homeless shelter might provide someone with a hot meal. I implore the whole community to keep donating to Vinnie's because, as you know, winter has only just begun!

Another issue that the Social Justice team participated in during the term was 'Eddie Mabo Day'. Eddie Mabo was an Indigenous Torres Strait Islander man known for his fight for recognition of the first Australians to have rights over their land. Our aim on the day was to raise awareness, recognise reconciliation and help members of the community share their stories to ultimately close the racial gap. We held a football match on the Big Memorial Oval between the Gurumul Goannas and the Lingiari Lizards. The two teams played a fantastic game with many highlights. Thank you to everyone who participated and supported these two initiatives.

We will continue our work next term, endeavouring to raise much needed awareness on many more important social issues.
Collection Day for Vinnies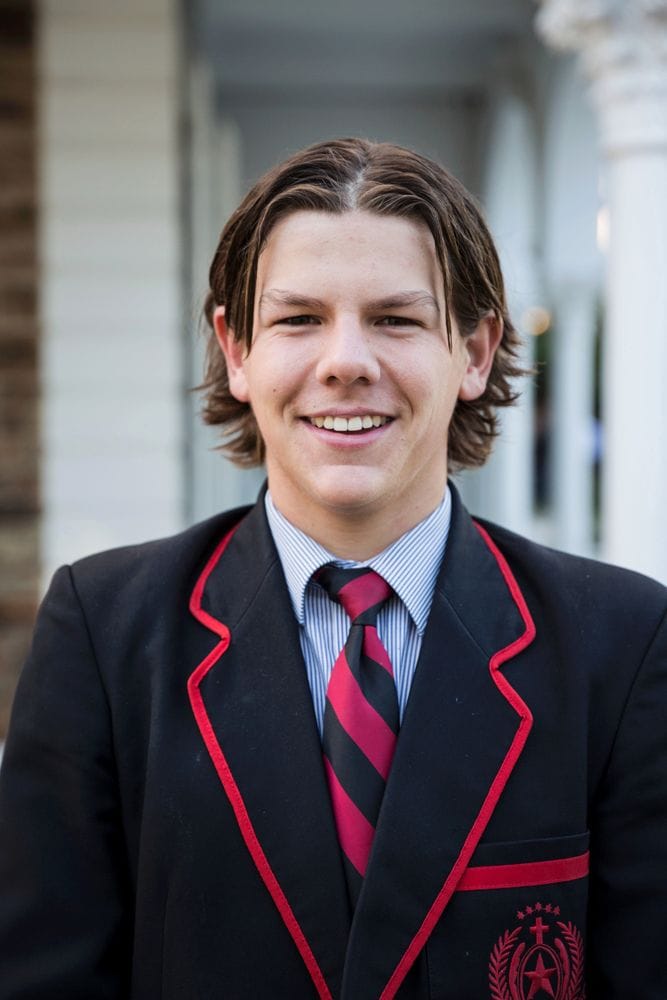 Kyle Brazell
Prefect - Barron House Captain
Throughout a busy Term 2 period, Barron students have worked diligently to progressively improve our position on the Academic Shield, which is a pleasing result for the House, depicting some of the great effort and hard work shown. This was reflected by many boys receiving academic awards ranging from Christian Brother to Palma Merenti Awards. Personally, I would like to commend all the boys on their effort this term and hope this can continue throughout the exam period and into Term 3.

With winter fast approaching, the Barron community turn our sights into helping several charities to aid the homeless and less fortunate. We recently had a prolific involvement in the St Vinnie's Jumper and Rug Donations, which aimed to provide clothing and warmth for those struggling to acquire the basic necessities of life. This will be a significant focus for Barron House students in Term 3, to ultimately spread the word about this prominent issue.
Continuing on the note of social justice, it is with great pride to announce that Barron Year 12 student, Alex Partington, will be volunteering in a 3-day Eddie Rice Camp, which allows disadvantaged children a 'Big Brother' whilst undertaking numerous activities.

We are all looking forward to upcoming College events in Term 3 such as the Intercol against Sacred Heart College and the Athletics Carnival, where Barron have the opportunity to demonstrate our skills in the hope of moving up the leader board this year.

In closing, I would like to thank each member of Barron House for their ongoing efforts so far this year and wish everyone a safe and relaxing break over the holiday period.
Jack Basso after finishing an exam last week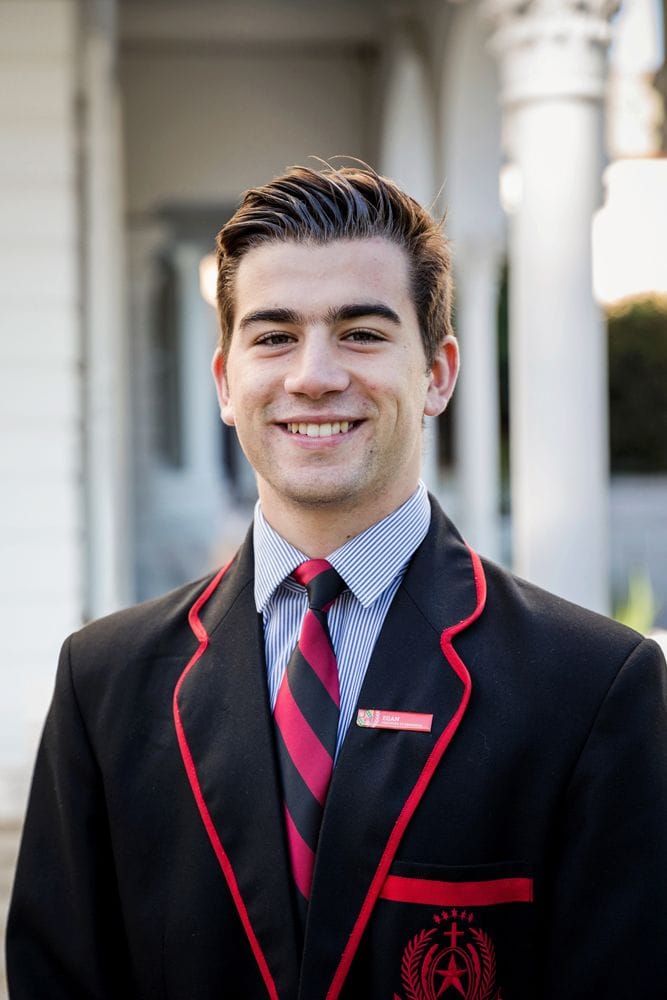 Jamie Signorello
Prefect - Egan House Captain
Egan House has continued to leave a legacy and maintain a strong ethos in Term 2. The 'Lighten the Load' campaign, in conjunction with the Social Justice team, has been a highlight. In summary, the campaign targeted the entire Rostrevor College Community students, parents, staff and relatives to bring in unwanted clothes, toys, games, books, CDs and DVDs. This campaign has allowed us to step up as young leaders and follow in the footsteps of Jesus and Edmund Rice who committed their lives to the service of others. As a result, the bar was set really high with two rounds of six bins being filled and the campaign published in both the Messenger and the Southern Cross. By 'lightening the load' and clutter of our wardrobes and homes, we have helped to provide Vinnies Stores with a key source of income to assist them to 'lighten the load' of the 1.3 million Australians directly supported each year. I must thank Mr Whitefield, Mr Hodkinson, Mrs Craig, Nathan McCarthy, the Social Justice team and Egan House staff and students for supporting this campaign.
At the Principal's Assembly earlier in the term, Egan House's dominance was quite evident with the number of Palma Merenti Awards (GPA of 90 or above) presented. In addition, Principal's Awards (GPA between 85 and 89.9) and Christian Brother Awards (based on effort grades) were presented to students at a House gathering. Congratulations to all recipients!

Co-Curricular has also been significant for Egan House students. The First XVIII have had a solid start to their 2019 campaign with some very big wins and very tight losses. Special mention must go to Cameron Taheny who has been included in the Under 18 State team and also made his senior debut for Norwood Football Club where he kicked a handful of goals against West Adelaide. I was honoured to be named First XI Captain; we currently sit on top of the league with five wins, one draw and two games to go before finals. All students look forward to and eagerly await Term 3, Week 2, for the Intercol against steady rivals, Sacred Heart College!

Good luck to all Year 12 students for their upcoming exams and best wishes to all for a safe, warm and enjoyable holiday break!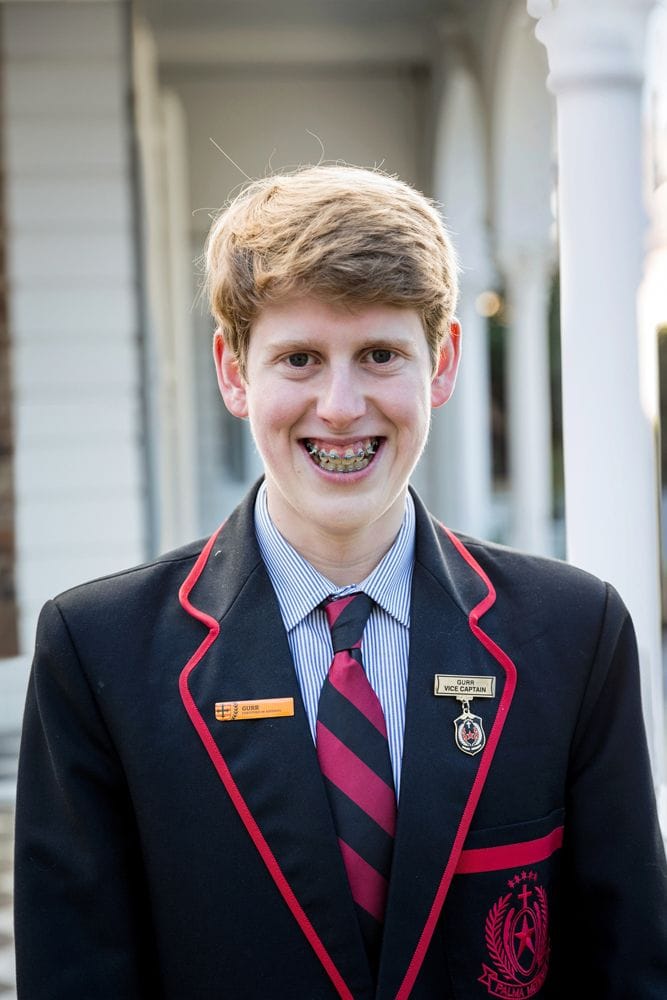 Jack Myers
Prefect - Gurr House Captain
I am pleased to report on the success of Gurr House throughout the first half of 2019. With winter beginning to set in, Gurr partnered with Egan and the Social Justice Group in the Vinnie's 'Lighten the Load' Campaign. I extend my thanks to all of those who donated blankets and warm clothing which will be greatly appreciated by the homeless throughout winter.

In addition to our fundraising initiatives, Gurr achieved great success in our academic pursuits throughout Term 1.
Numerous students achieved Grade Point Averages (GPAs) high enough to be awarded either Palma Merenti, Principal's or Christian Brother Awards. Congratulations to all boys who achieved these awards and I look forward to watching the continued academic growth of our students throughout the year.

As we head into the holidays, best wishes for a safe and restful break. I look forward to seeing everyone refreshed as they come back to tackle the second half of the year.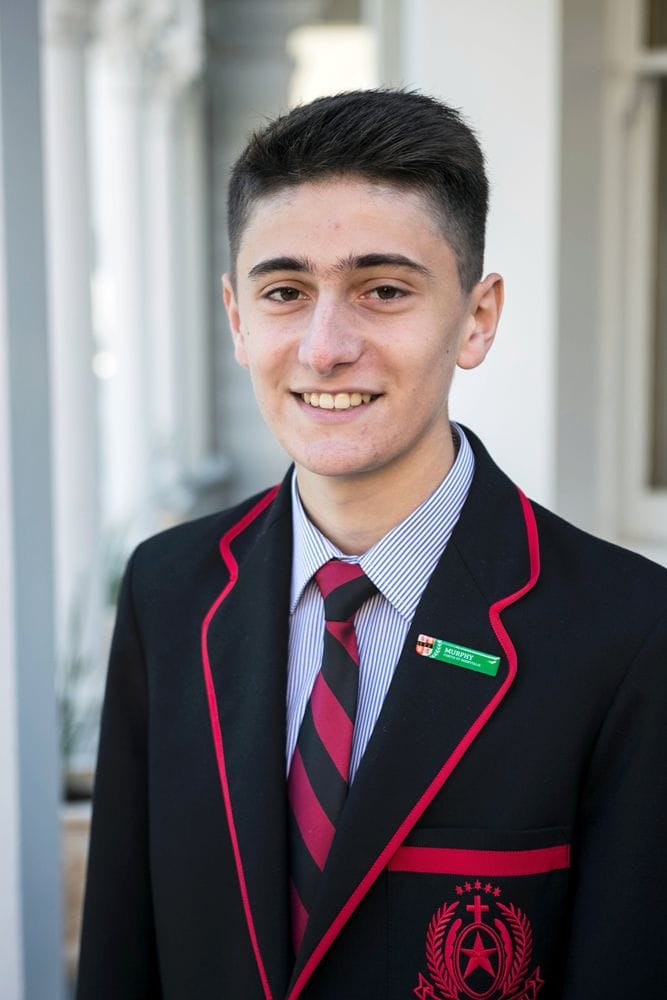 Jake Tatarelli
Prefect - Murphy House Captain
Term 2 for Murphy House has rounded off the first semester positively and has us looking forward to the remainder of the year. We began the term recognising the academic efforts of the boys throughout Term 1, with a considerable number achieving Palma Merenti, Principal's and Christian Brother Awards. It was especially pleasing to see five of our Year 12's achieving Grade Point Averages above 90, which is a testament to their hard work so far this year. I encourage boys in all year levels to continue aiming for improvement and to achieve their personal goals in their academic endeavours as the year progresses, using their GPA as an indicator of their progress.

At this term's Murphy House gatherings in the Kelty, we celebrated the co-curricular successes of boys who participated in triathlons, athletics and a number of other team sports.
We introduced a segment to recognise those thriving in winter school sport and co-curricular activities, which the House embraced with enthusiasm. I anticipate this spirit will peak around the time of Intercol early next term, which we are all looking forward to. We also have the Athletics Carnival later in Term 3, where we hope to go back-to-back for the Spirit Shield and aim to challenge for a top 4 placing in the overall standings. On the topic of sport successes, special mention must go to the Junior Years Murphy boys for winning the Cross Country Shield and the Inter-House Soccer Tournament! The future of our House is in good hands Go Murphy!

Term 3 guarantees to be an exciting one, so take the time to relax, spend time with family and enjoy the extended break.
Murphy Junior Years with the Cross Country Shield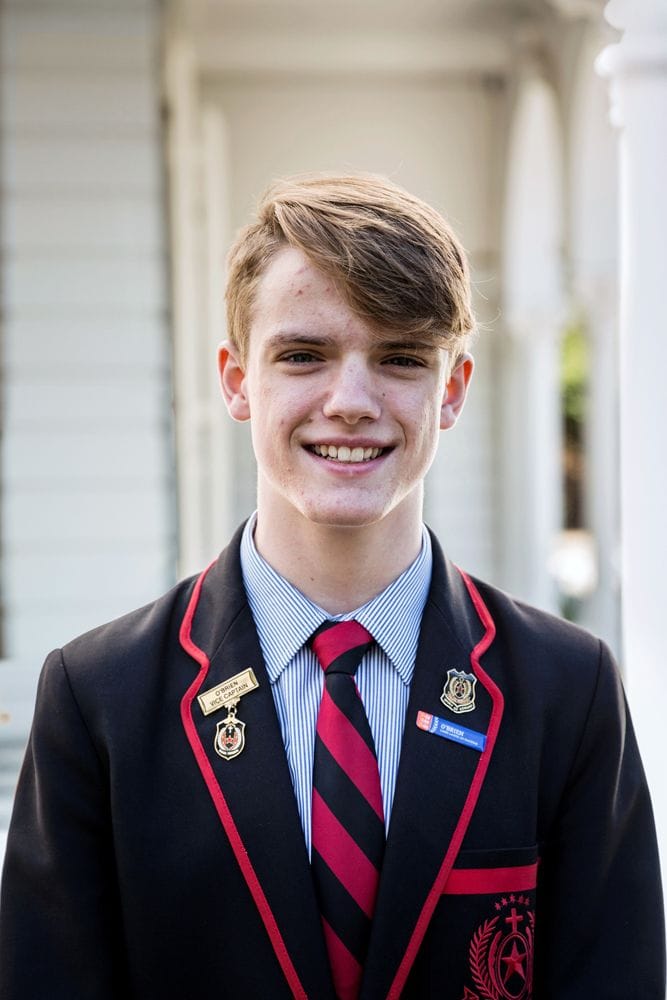 Lewis Pipe
Prefect - O'Brien House Captain
Throughout Term 2, members of O'Brien House have focused on discovering ways in which they can excel in their schooling at Rostrevor. With the retention of the lead for the 'illustrious' House Academic Shield as described by last year's House Captain, Patrick Russo, the O'Brien Lions have shown a great deal of enthusiasm towards ways in which they can improve their results in the classroom.
It is pleasing not only to see the large amount of O'Brien students receiving Palma Merenti and Principal's Awards, but also Christian Brother Awards.

To all students, enjoy a safe, well-deserved break and congratulations to all members of our House on their academic achievements this term.
Some of the O'Brien Academic Award winners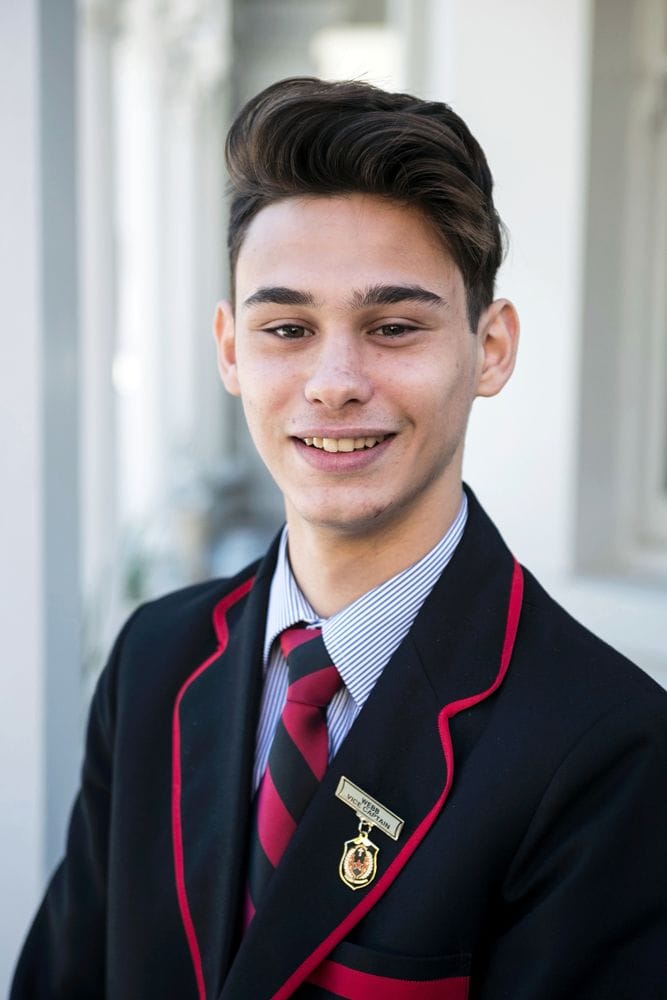 Jack Reginato
Prefect - Webb House Captain
Term 2 has been full of enjoyment and excitement for members of Webb House with the commencement of the Winter Co-Curricular Program. It is great to see so many students participating and representing the College in their respective sport. We are now all eagerly awaiting the Intercol against Sacred Heart College next term. Let's encourage all students to support and get behind the Red and Black for this annual event.

As mid-year exams approach for our Year 12 students, it will be a mentally challenging time, however I know we will all strive to achieve our best and give 100% effort towards our studies. During this 'Year of Legacy', all students are encouraged to create a positive impact.
We look forward to Term 3 where we will participate in Athletics Day, whilst also taking part in Hutt Street Centre's 'Walk a Mile in My Boots'. This event is an annual tradition for Webb House and has been thoroughly enjoyed by all who have participated in the past. I would encourage you to attend this year; it's an excellent opportunity to raise awareness and support homelessness in Adelaide.

During Term 3, as a House group it is our desire to continue to grow as a community and strive to display the notion of being a 'man for others'.

Finally, I would like to wish the Rostrevor Community a safe, enjoyable and well-deserved break. I look forward to seeing you next term, refreshed and ready for the second half of the year.
Some of the Webb Academic Award winners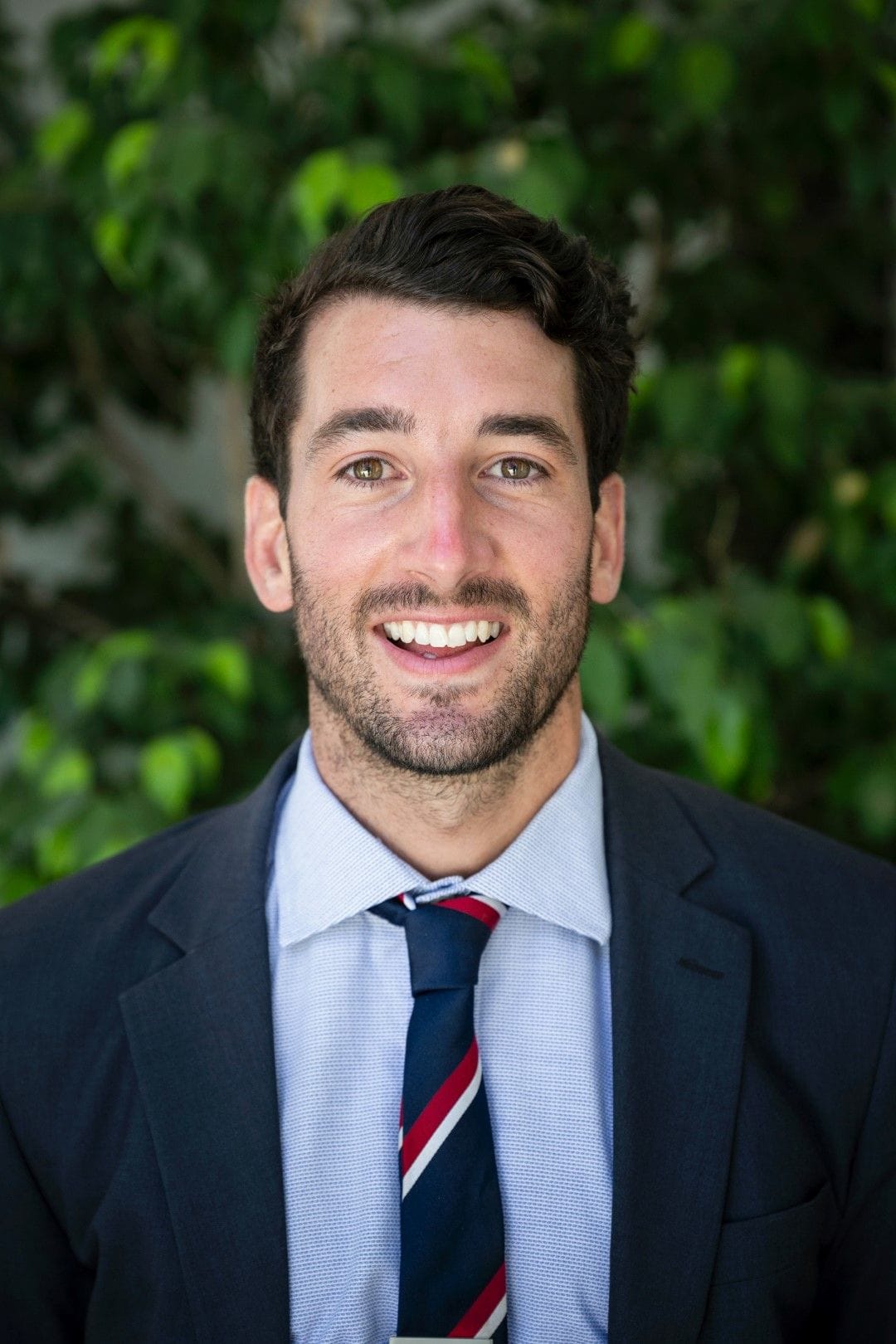 Just like that, our Term 2 Co-Curricular 'season' has concluded, leaving an abundance of everlasting memories in its wake. Incredibly, we now only have 3-4 fixtures remaining for almost all Co-Curricular teams in Term 3 and they will likely come and go in a hurry.
I'd like to take this opportunity to offer a sincere thank you to every single person involved in the Co-Curricular Program across Term 2. Coaches, staff members, umpires, students, parents and supporters all play a vital role in the energy and atmosphere present during all our activities. From the parents who assist in set-up and pack up and the incredible team behind the famous 'Rostrevor Kiosk', to all the individuals who continuously gave their time to the organisation and functioning of various events, please know your involvement is very much appreciated.
To those of you who have continuously supported our expectations and encouraged our boys to consistently meet these standards, I cannot thank you enough. The rules, foundations and levels of accountability that exist on the 'inside' of any program are far more important than the results or performances that are witnessed from the 'outside'. We can never take full responsibility for the way in which many of our young men present themselves in Co-Curricular competitions and are very grateful to those who have sacrificed so much to set a phenomenal example for their children.
The tireless and meticulous work of our Rostrevor Grounds and Maintenance Team should also be acknowledged. Whilst we have been somewhat fortunate with the weather thus far, nearly all of our pitches, ovals and venues are in exceptional condition and are a terrific representation of our programs. I'm sure those who have spent some time at Rostrevor College for any fixture would agree wholeheartedly. As always, we are endeavouring to improve our facilities; whether that be an obvious improvement or even refining 'the little things' that might go unnoticed by some.
I'm eagerly awaiting the commencement of Term 3 and am hopeful of continuing to see many of you at various Co-Curricular events for the remainder of 2019.
Luke Manuel
Head of Co-Curricular Programs
---
In Other Co-Curricular News:
Congratulations to our Senior and Middle School Pedal Prix teams for their performance on Sunday 16 June. Over the last two years, parents have raised $7,000 towards the upgrade of our Senior School team racing trike. It was nice to see Rostrevor enter two teams again after an absence of a Senior Team last year. Our Senior team, racing in 'Eddy 1' finished 10th in their category and 15th overall on the day. Whilst this is an outstanding achievement in itself, it also marks the highest placing any Rostrevor College trike has reached in 7 years. Part of this success is the teams' involvement in the Cycling Program in Term One and their dedication to Pedal Prix now for a number of years. The Middle team, racing in 'Eddy 2' also finished a very respectable 37th in Category and 78th overall. After analysing the race data in our weeknight training session, our teams have strategies in mind to improve their results in the next Adelaide 6-hour race on Sunday 28 July.
If your son, be he a current or past scholar, has made any significant achievement in an activity outside of the College, please pass this on to me via email to lmanuel@rostrevor.sa.edu.au or by phone, so that I can include his achievements in the weekly newsletter.
For a full list of results from the weekend's fixtures, please click the link below:
2019 Term Dates
Term 1: Wednesday 30 January to Friday 12 April 2019
Term 2: Tuesday 30 April to Friday 28 June 2019
Term 3: Monday 22 July to Friday 27 September 2019
Term 4: Monday 14 October to Friday 06 December