Term 3, Week 10 - Thursday 26 September 2019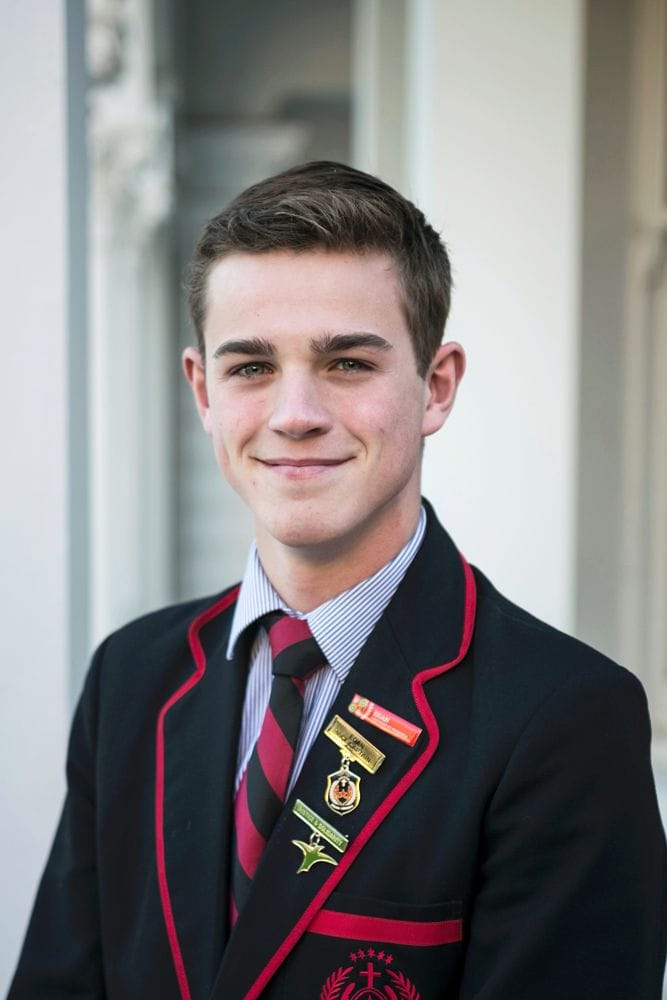 Joshua Rahaley
Head Prefect
Dear College Community
Following the success in implementing the Prefect initiatives in Term 2, Term 3 has enhanced and accelerated these directives. The term kicked off with the Indigenous football match against St Peter's which saw the creation of an Indigenous themed banner incorporating both College's logos. This was followed by the largest sporting event in our calendar year, Intercol. The 96th Intercol season began with myself, the Deputy Head Prefect and Captain of the First XVIII, Stefan Lanzoni, and Head Boarder, Cameron Taheny, travelling to Sacred Heart to meet with their Leadership Team. This visit was to highlight the theme of this year's Intercol, "Respect Over Rivalry", which our students demonstrated admirably over the weekend with the supporter base being larger than recent years when playing away. Throughout the weekend vast talent was displayed, as well as great resilience and courage with our First XI Soccer team coming back from 3-0 at half time to win 4-3 on the final whistle blow. That windy, cold night will be remembered by the community for decades to come.
In terms of Prefect initiatives, Term 3 was the most active, which included the outstandingly successful Blue Week. It began with a balloon ceremony; students were encouraged to write personal messages on balloons, which were then secured for display in the Valley.
This demonstrated to the College community the camaraderie between us all as a family, and that when one of us struggles, we all do.
Throughout the week, the boys were educated at a House level, with respective House Captains and other Prefects presenting personal stories and facts about mental health.
The week was capped off by 'Blue Day', where students were encouraged to wear as much blue as possible, and we conducted the first Assembly co-ordinated solely by the Prefects where the themes and messages of the week were reiterated by our guest speaker and old scholar, Alex Cusack, who graciously accepted our invitation to share with us his personal mental health journey.
Upon discussion with students, staff and members of the community it appears that the impact of Blue Week on students will be long-lasting, with the stories and messages still being discussed and the impact felt today.
On Wednesday we competed in the netball decider against Loreto College's Executive Team, and with it being played on our home ground, we were hopeful of taking the win. At half time the score was 5-4 Loreto's way, with it looking grim for the College's pride. However, a silent wave of motivation swept through the team and united us in the second half, seeing the final score 15-7, a triumph for the Red & Black.
To conclude, in what is most likely my last formal Prefect's Report, I would like to extend a big thank you to each member of the community who has assisted us in our endeavours; we look forward to finishing off the year in a successful manner, completing the remaining initiatives we have planned.
Prefect Netball against Loreto College
Stefan Lanzoni
Deputy Head Prefect
As 2019 comes to an end and we reflect on what was a swamped Term 3, the Year 12 cohort are about to enter their final days while ironically starting a life for themselves.
The Indigenous Round in cohesion with the First XVIII Football team was a highlight, raising awareness for our strong Indigenous community. As previously mentioned, Intercol was another huge event and this year, for the first time, the Prefects in conjunction with the College Leadership Team, arranged student transport to Sacred Heart on both Friday and Saturday. This ensured that the RBA provided a phenomenon for all supporters and players for the first time at an away Intercol fixture.
The First XI took home the cup for the eleventh year in a row with a historic 4-3 victory to begin the contest.
The weekend provided supporters with a vast array of talent across all sporting fixtures. Unfortunately, the First XVIII were not good enough on the day and the underdogs in the Open A's suffered a nail-biting loss.
Term 3 was extremely busy from an initiative perspective with the inclusion of Blue Week, providing our students with an understanding of how men's mental health is such an important issue in our community. Activities throughout the week allowed us to raise a significant sum of money for Beyond Blue.
As school life draws to a close for the Year 12 cohort, I would like to thank each and every person involved in my journey as the Deputy Head Prefect, it has been an honour. I also take the opportunity to wish the newly appointed 2020 Prefects the very best of luck and success as they continue to push this great school in the right direction, through pursuing the 2019 legacy.

"Life is like a video game, if you keep meeting enemies, then you're going the right way"
Blue Week with guest speaker and advocate, Alex Cusack '17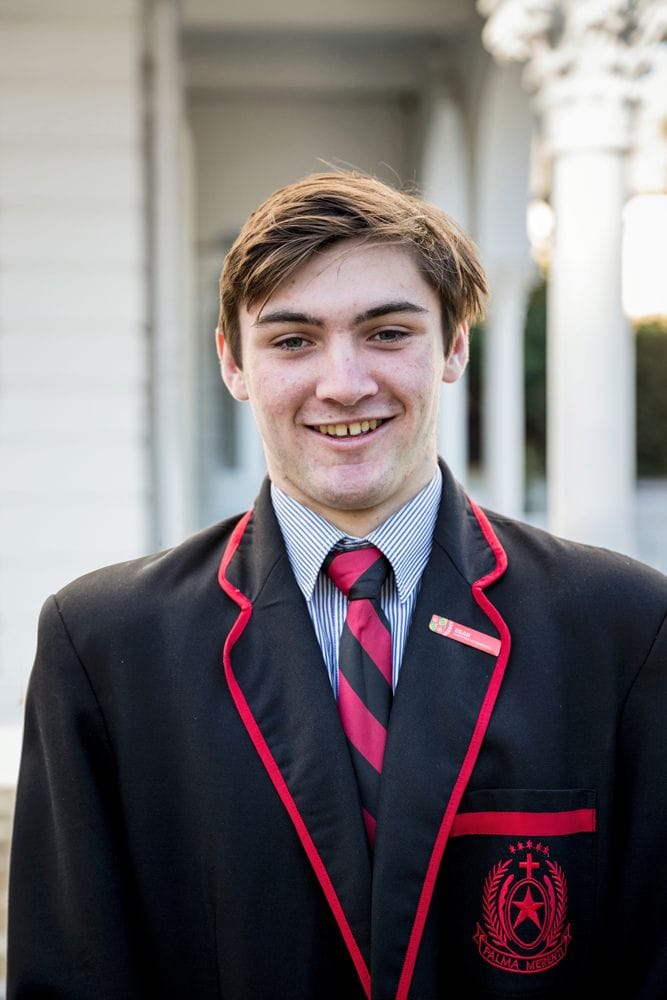 Cameron Taheny
Prefect - Head Boarder
Term 3 in Duggan House has been an eventful ten weeks with the conclusion of all winter sport, including the great Intercollegiate fixture against our rivals, Sacred Heart. It was great to see all games played with spirit and respect, both on and off the field. Congratulations to all members of Duggan House who gave their personal best and were outstanding throughout the competition.
A highlight for the Year 12 boarders this term was the activity co-ordinated by one of our Boarding House supervisors, and old scholar, Ross Pezos. We were taken into the city to the Adventure Room, which was a fun and challenging experience. On our return we enjoyed a lamb on the spit, prepared by the Pezos Family. We thank them for their time and effort in making this possible.
In Week 9 we held our Annual Boarders' Football High Tea to celebrate the efforts of all boys who took part in any of the co-curricular activities over winter.
We were lucky enough to have Matthew Panos from the Norwood Football Club (and old scholar) come and speak to us about his journey both as a student and footballer. We thank him for taking the time out of his busy schedule; it is always great to hear stories and tips from old scholars.
Finally, I would like to congratulate Cooper Llewelyn and Oscar Klose on their appointments as Head Boarder and Murphy House Captain. I wish both boys the very best as they look forward to representing not only the boarders but also their respective Houses at school. As we head into the holiday period, I wish safe travel home for all families.
The Pezos Family preparing the lamb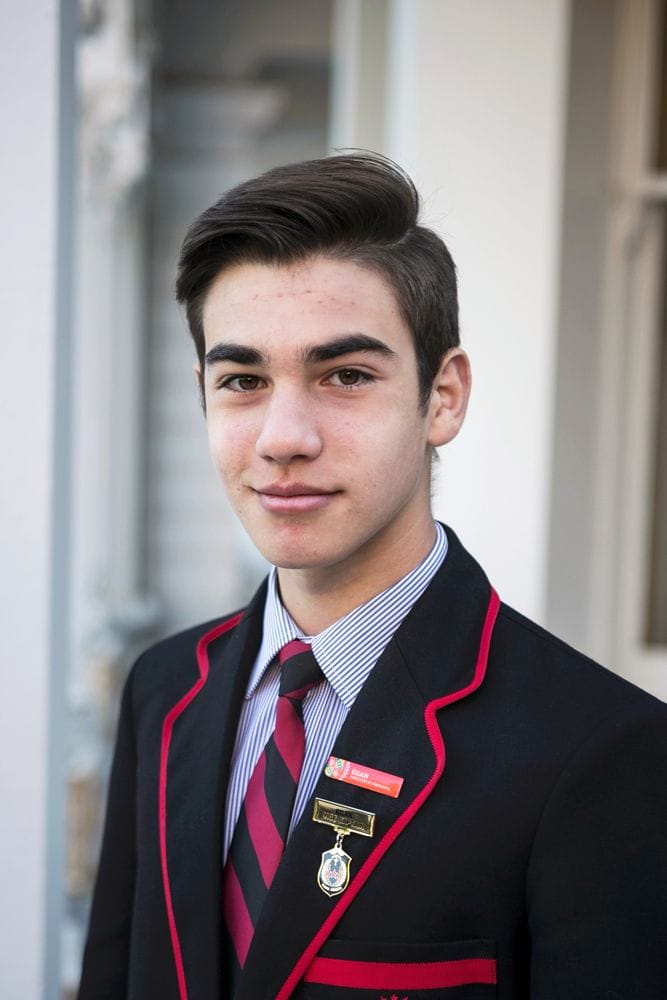 Luca Mazzeo
Prefect - Internal Services
As the Year 12 cohort's schooling journey comes to a close, the Prefect body has embraced all opportunities given with pride, determination, and most importantly, a little bit of fun.
As part of our Blue Week campaign, we held the Prefect vs Staff netball match, which proved to be a highlight, with the Prefects displaying a tenacious team effort to ensure an enthralling
9-7 victory over the unnerved teachers. Proceeds from a sold-out barbecue and various other fundraising activities were donated to Beyond Blue.
Furthermore, we have also maintained our buddy class system with the Junior Years, with each of the Prefects providing exceptionally rewarding feedback. The ability to make new friendships with the future leaders of the College has been a personally fulfilling experience, especially when all it takes to put a smile on their faces is a simple "hello". I have no doubt the student body will be in good hands in the years to come.
As the finish line approaches for what has been for me a 13-year journey, I am left with an immense feeling of pride and appreciation to be able to don the Red & Black every day. To be part of a school that has offered a multitude of opportunities and memories, life-long friends and rewarding experiences, it has been a pleasure to serve and give back to a community that will always remain close to me.
Finally, I wish my fellow Year 12's the best of luck for their upcoming exams, and the entire Rostrevor community a safe and enjoyable end of term holiday.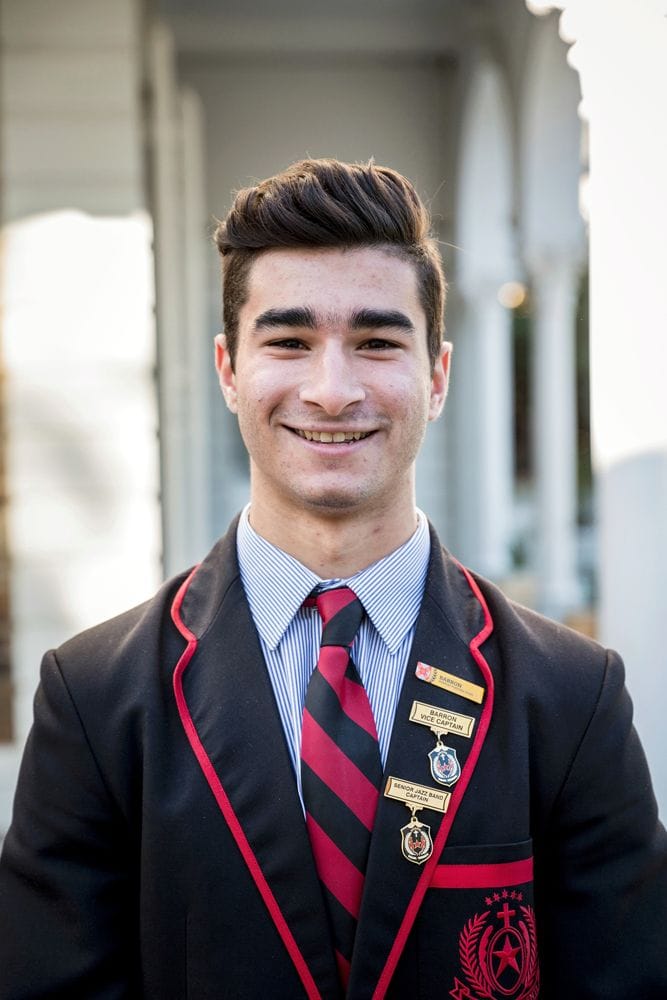 Daniel Carbone
Prefect - Community Activities
As 2019 draws to a close for the Year 12 cohort, I've thoroughly enjoyed the year and felt a great sense of pride in the role of Community Activities Prefect. It has allowed me to work closely with the whole Prefect body and provided the privilege each week of discussing new ideas on how to improve our great school. Working closely with Josh, Stefan and Luca has been great to grow new ideas, exchange opinions and form a closer bond amongst the entire Prefect body which is why I believe this year has been such a success.
As a Prefect, I have had the opportunity to work with staff and serve the Rostrevor community which has had a substantial impact on my own journey at school.
Activities such as the Staff vs Prefects netball game is just one example of the many times we have brought the relationship between students and teachers closer, forming a close knit bond between the entire Rostrevor community.
I feel that this year has been a success, with the current Prefect group upholding a great sense of inner school sprint and working together to make a positive change. I congratulate the 2020 Prefects Elect and am sure they will continue to make improvements to our great school.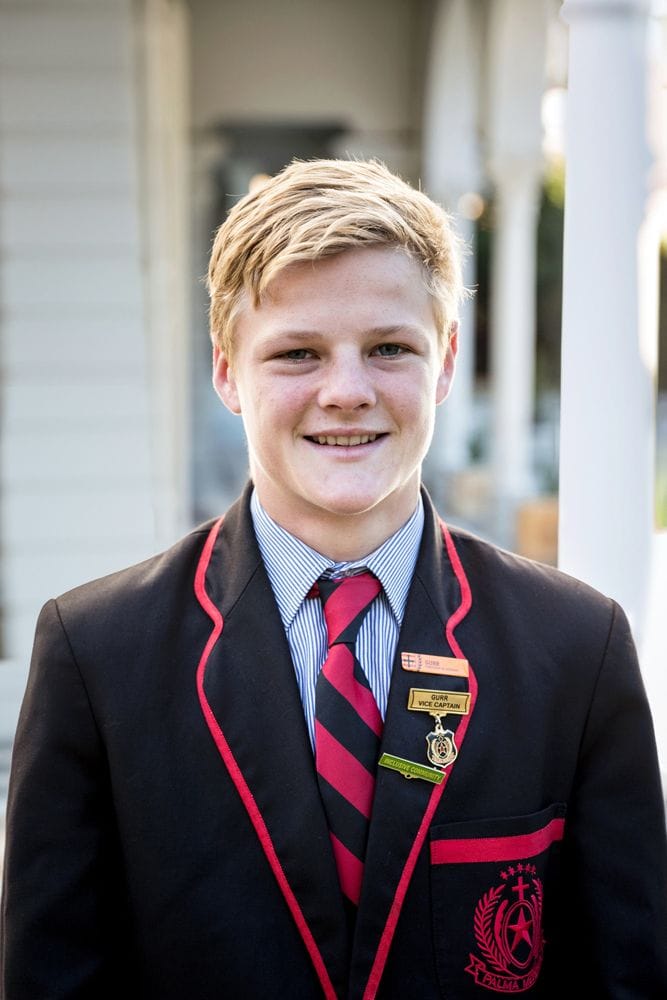 Nathan McCarthy
Prefect - Social Justice
As Term 3 draws to a close, so does the work of the Social Justice Group. Over the course of the term, we have been able to work on some very important issues that are affecting our school. One of these issues is the growing threat of global warming and its detrimental effects on the environment. This has been a primary focus this term, with plans in place to help raise awareness.
On Tuesday, the Social Justice Group organised for all staff and students to evacuate their classes for a short time and congregate on the oval. Members of the Social Justice Group addressed the audience, explaining the issue of global warming and how it is not a sustainable practice.
Petitions were also available for staff and students to sign which will be forwarded to the Federal Member of Parliament, Mr James Stevens MP. Overall, the day was a massive success in raising awareness about this important issue.
The Social Justice Group will continue their great work next term, raising further awareness of the many important social issues in our school.
Climate Action Initiative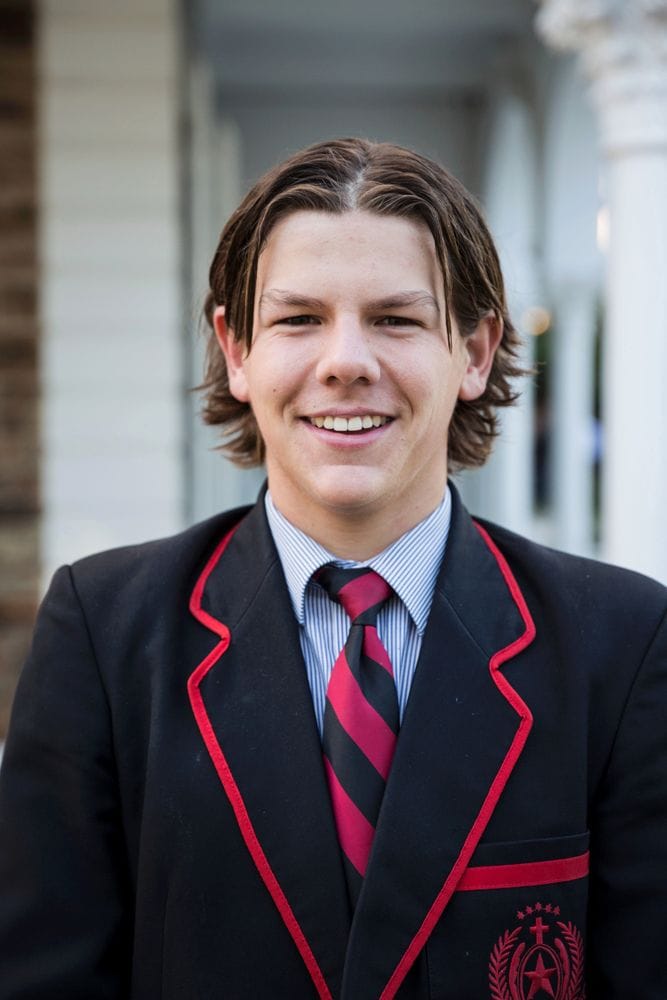 Kyle Brazell
Prefect - Barron House Captain
As Term 3 draws to a close, we have the opportunity to reflect on the year so far, and for the Year 12 students we have the finish line in our sights. Barron House can stand proud for the efforts shown throughout the year and in the recent Athletics Carnival, where consistent improvements were demonstrated from previous years.
It was great to see so many Barron boys representing the House in the Annual Walkathon.
I extend my congratulations to the future leaders of Barron and the College more broadly - Gianni Bergamin, Head Prefect, and Patrick Baldwin, House Captain, will undoubtedly lead next year's cohort with great passion and spirit.
To conclude, I would like to thank all staff and students who have allowed Barron to excel in such a successful year. Mr Footner has been yet again instrumental in guiding and leading the House, offering his continued support.
Lastly, I hope everyone has a safe and relaxing break, spent with family and friends, preparing for a jam-packed last term of the year.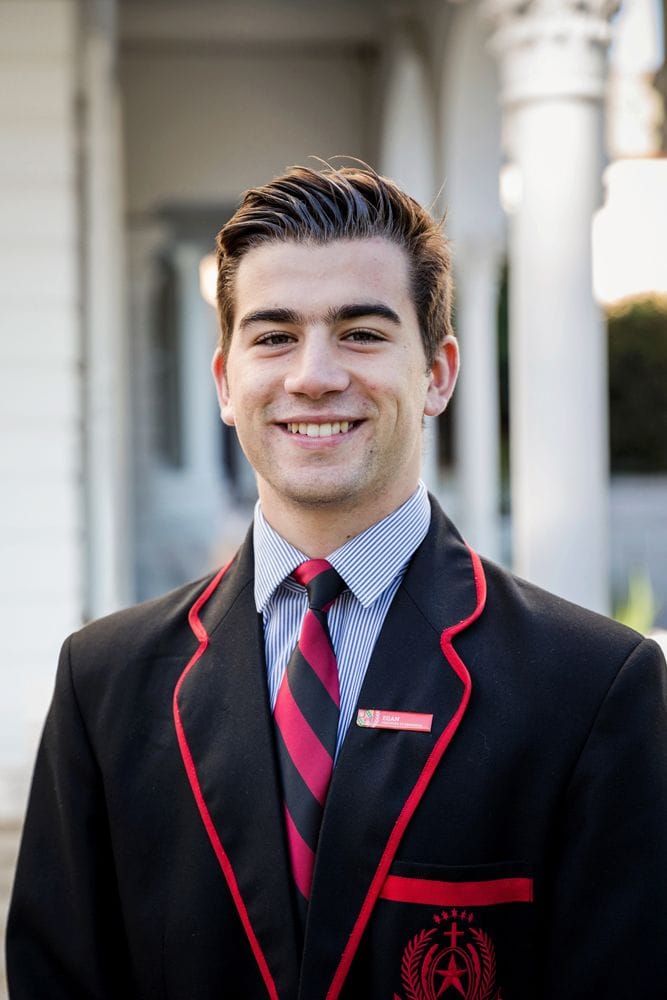 Jamie Signorello
Prefect - Egan House Captain
Egan House has continued to leave a 'Legacy' in 2019 through our recent triumph on Athletics Day. This victory has seen Egan House complete an inhumane feat with seven consecutive Athletics Day victories. This is an incredible achievement for many Year 12 students who leave the College without an Athletics Day loss throughout their schooling journey.

Furthermore, Term 3's wintery conditions have seen the Friday morning barbecues reach their peak with many students assisting across all year levels. In turn, I have come to realise the remarkable culture that has been built this year with Mr Hodkinson in charge.
Also, it is startling to see many Egan House members arrive punctually at Social Justice Meetings at lunch time on Thursdays with Mr Whitefield.
Egan House participated in the Annual Walkathon around the Rostrevor suburbs and saw students thoroughly enjoy Marian Day with guest speakers from Eddie Rice Camps. We look forward to the Annual Winter Sleep Out in Term 4.

Finally, I must offer my congratulations to Thomas Cusack on his appointment as the 2020 Egan House Captain. I have complete assurance in his ability to foster Egan's triumphs. I would also like to congratulate other Egan House Prefects Elect - Christy Saji, Deputy Head Prefect, and Xavier Tranfa, Internal Services.
Old Collegian, Stefan Curran '12, talks to Egan House about Edmund RIce Camps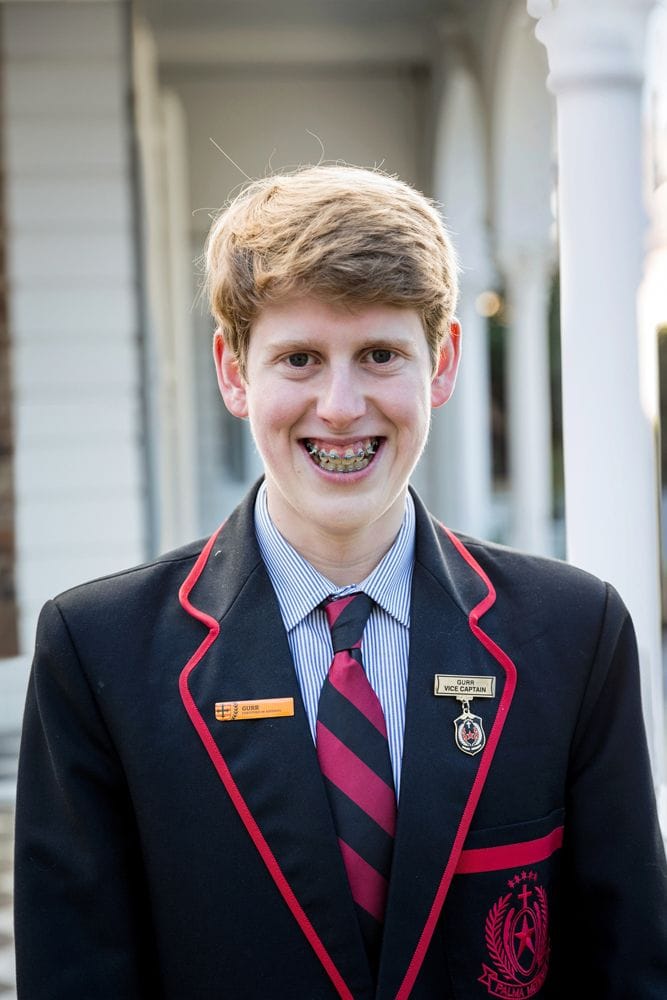 Jack Myers
Prefect - Gurr House Captain
As Term 3 comes to a close, it provides us with the opportunity to reflect on what has been a great year for Gurr House. This term, numerous events have taken place, with Gurr House supporting them. After winning the Swimming Carnival earlier in the year, the Athletics Carnival came around with the House finishing in second position. Throughout the year, the academic growth has also been a highlight and I have no doubt this will be the same for the coming term.

Numerous fundraising efforts have also occurred; the Annual Walkathon raised money for Eddie Rice Camps, with all boys donating generously. Blue Week was very well supported by the lads in Gurr, focusing on men's mental health, with funds raised going towards Beyond Blue. This final week of term sees Gurr run their annual Pink Week to raise awareness and funds for breast cancer.
With only a few weeks remaining in the school year, I would like to wish all Year 12 students the best of luck in completing their courses and end of year exams. Additionally, I would like to thank Mr Vickery, staff and parents for supporting us throughout the year and contributing to our success.

Finally, congratulations to Jack Haddad on his appointment as the 2020 Gurr House Captain along with Matt Dnistriansky, who has been appointed as Social Justice Prefect. I have no doubt that they will continue to build on the successes of Gurr House next year, in conjunction with Vice-Captain, Lewis Matsis.
Gurr Athletics contingent in action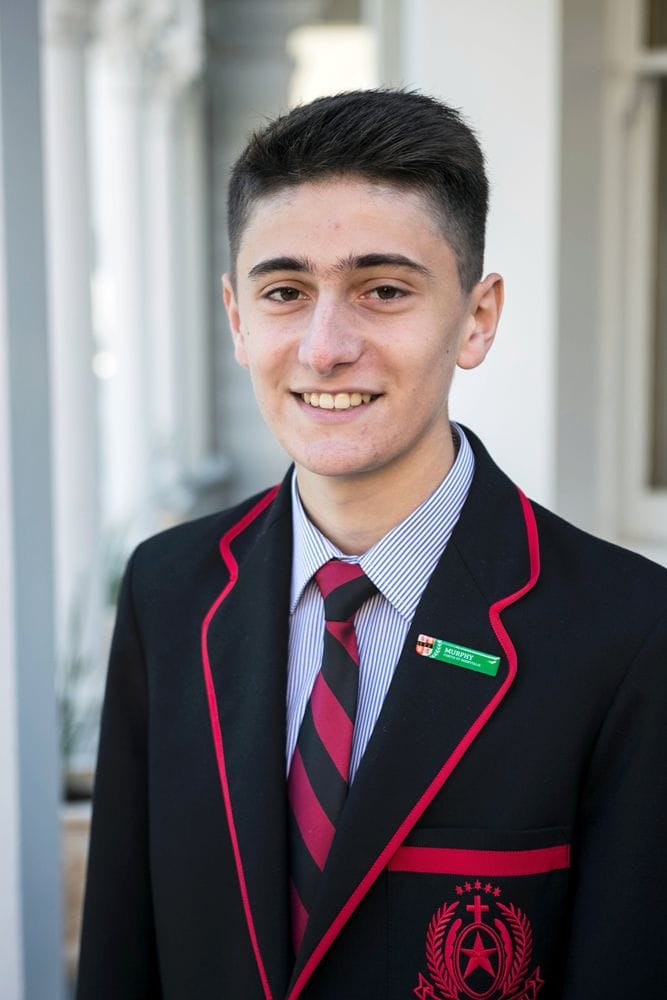 Jake Tatarelli
Prefect - Murphy House Captain
Murphy House enjoyed an eventful Term 3, immersing ourselves in a range of activities. In Week 4, we celebrated Marian Day with a whole-school Walkathon, with funds raised contributing to our House charity, St Patrick's Special School. Next, our attention turned to the Athletics Carnival. Despite our determined efforts leading up to and on the day, we were unable to go back-to-back in the Spirit Shield. Our endeavours in the track and field events were rewarded with a third placing in the Senior Years ranking.

Inspired by our donations to our House charity earlier in the term, groups of our boys visited St Patrick's to engage with the students both in their classrooms and on their Sports Day. Some boys participated in the Special Olympics held at the College. I would like to commend the boys involved for participating so eagerly in the activities and for their generous donations for those initiatives mentioned.
Our final focus for Term 3 was raising awareness for male mental health during Blue Week. The boys engaged in a House presentation on mental wellbeing, contributed to Beyond Blue and wore blue wrist bands throughout the week in support of the cause.

I would like to take this opportunity to congratulate Oscar Klose on his appointment as Murphy House Captain and Harrison Scholz as Vice-Captain for 2020. Well done also to Mackenzie Best for assuming the role of Deputy Head Boarder. I trust the House will continue to thrive with these boys at the helm.

Finally, I would like to thank Mrs Lee, Mrs Tiggemann, Adam Villano, PC staff and all the Murphy students who have supported me in my role as Captain. I have thoroughly enjoyed the opportunity to lead the House in my final year and wish all Murphy boys the very best of successes in the future.
Oscar Klose with Principal, Mr Brian Schumacher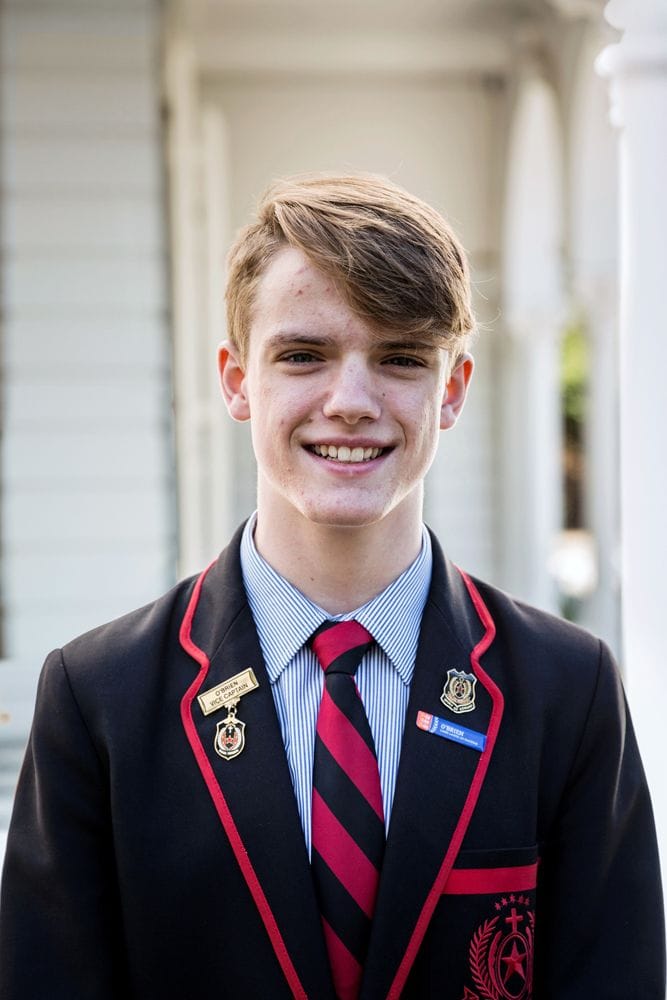 Lewis Pipe
Prefect - O'Brien House Captain
Term 3 has proven to be quite successful for O'Brien House.

The Athletics Carnival was a great success, with all O'Brien House members thoroughly involved in every aspect of the Carnival. At the beginning of the day it was evident that it would be a struggle for the O'Brien boys to rise above the other Houses and win the Spirit Shield. After a long-fought battle, we did so. My personal thanks go out to the younger members of our House, particularly Anthony Close and Ignatius and Charlie Crafter, who were instrumental in O'Brien House's success.
Continuing on from last year's dominant lead in the Academic Shield, O'Brien House has maintained a high level of effort towards their studies which has been reflected by the large number of academic awards obtained. Mrs Genner and I are very proud of each and every O'Brien House member's efforts this year and wish all boys the best in their future studies.

Congratulations to the O'Brien boys who have been chosen by their peers for leadership, particularly Jacob Van Den Kieboom, Cooper Llewelyn and Ned Carey who have been selected for Prefecture in 2020. Having worked closely with these boys over the past couple of years, I know that they will lead the House and the College to great things.
O'Brien House was successful in capturing the Athletics Carnival Spirit Shield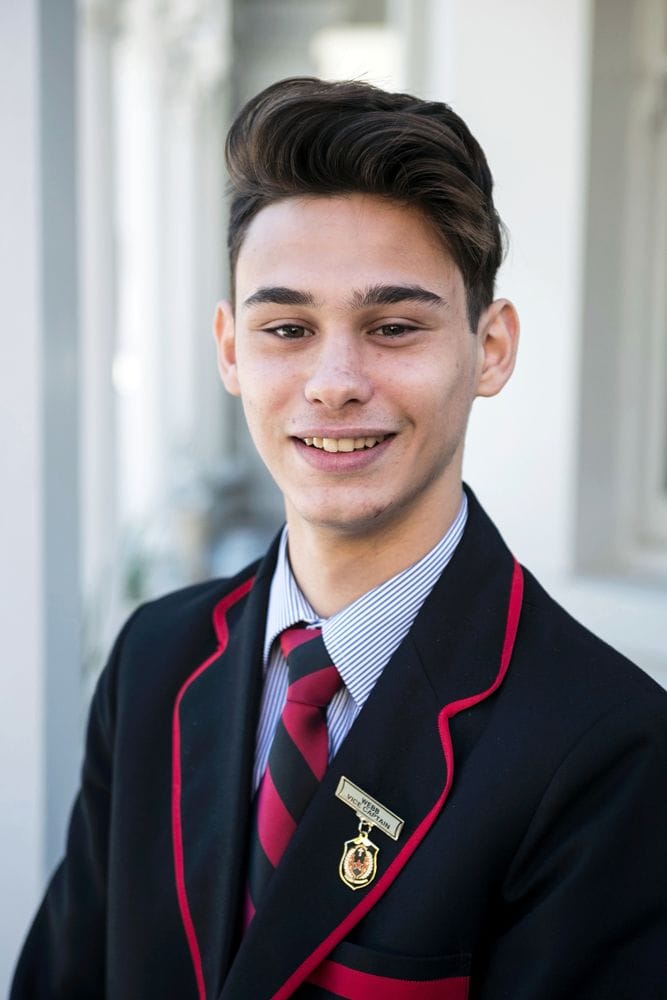 Jack Reginato
Prefect - Webb House Captain
Term 3 has been a successful, yet busy term for Webb House.
We participated in the Annual Hutt Street Centre's "Walk a Mile in my Boots" Campaign to raise money for the Hutt Street Centre which provides services to many homeless people living in the streets of Adelaide. We also participated in the Walkathon which was undertaken by all Houses in support of their respective House charities.

The Prefect group has had many initiatives throughout year, with this term conducting Blue Week, focussing on mental health and raising money for an important charity.
Webb House achieved an outstanding performance at Athletics Carnival finishing third overall. It was pleasing to see all Webb House members participating and cheering on their peers.
With only a couple weeks left of school for the Year 12 students, I wish our Webb House boys all the best for the future ahead. My final year at the College as the Webb House Captain has been an enjoyable and memorable experience.

Finally, I would also like to congratulate our House Captain for next year, Thomas Hill, and Vice-Captain, Daniel Malatesta, on their appointments; I have no doubt they will lead Webb House to great success in 2020.

I would like to wish the entire Rostrevor community a safe and enjoyable break, ready for a big Term 4 ahead.
Students participating in the "Walk a Mile in my Boots" Campaign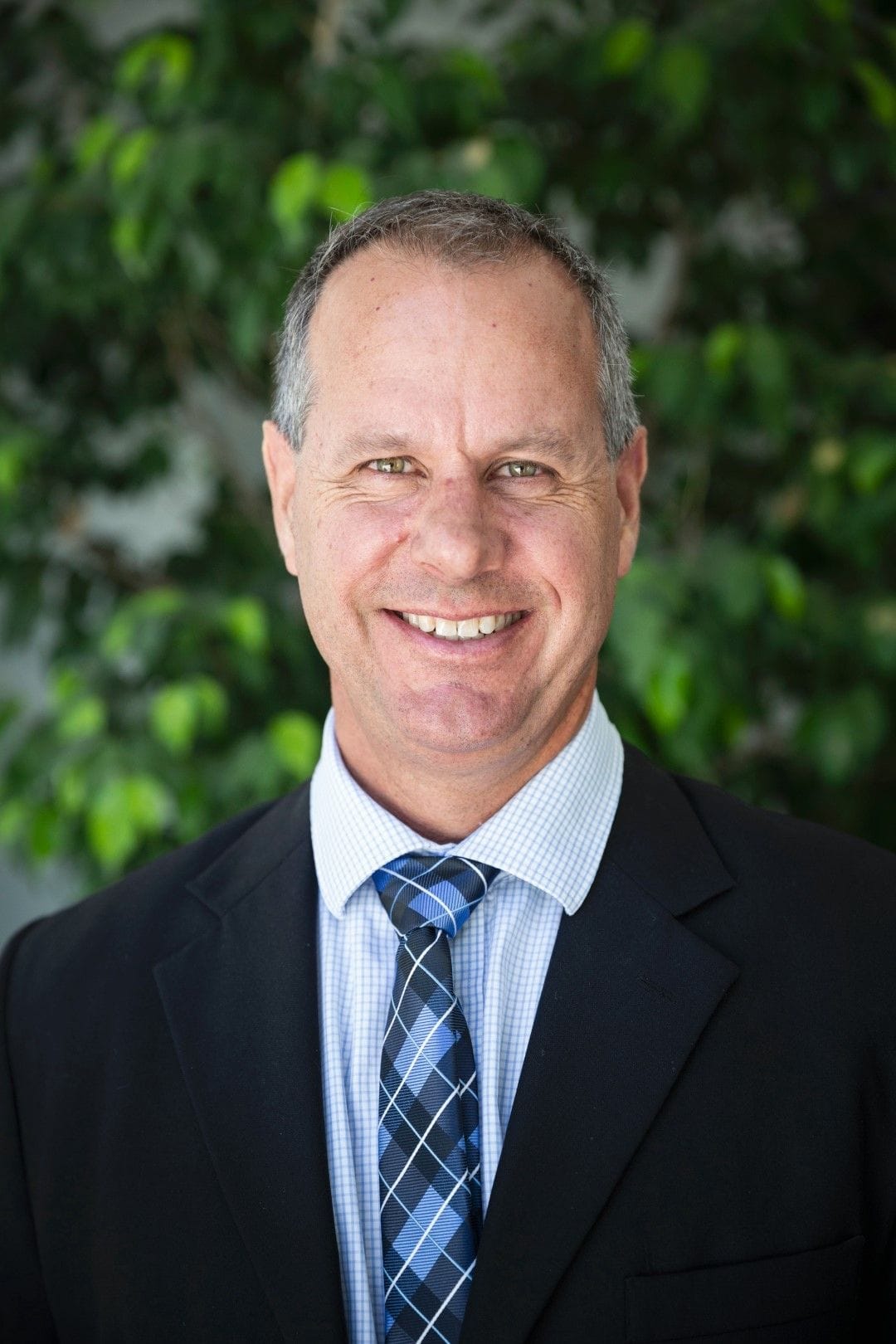 Music Night 2019 was a night of wonderful music, great ensembles and fantastic individual performances. All ensembles had been working since February to perfect their piece and add that final polish for the Music Department's showcase event titled 'Let the Good Times Roll'.
Many ensembles were involved, from the featured Senior Ensembles through to the up and coming ensembles with young musicians performing at Music Night for the very first time. Needless to say, it was a night to remember and, without exception, all the ensembles performed a variety of musically challenging pieces magnificently.
The evening commenced with the recently formed saxophone quartet providing some easy listening background music as the audience entered Norwood Town Hall. From there, the evening ebbed and flowed, oscillating between the experienced sounds of the Senior Band, Senior Jazz, Senior Vocal and Senior Rock Bands to the younger members of the 25-piece Intermediate Band, the Red and Black Rock Band, the Intermediate Rock Band and the Junior School Jazz Band.
There were many highlights from the evening, including:
a guest performance by thirty Old Scholars with the Senior Vocal Group
the outstandingly talented, award winning Senior Band
the toe-tapping, skilfully uplifting Rock Bands
the brilliantly developing Intermediate Band
the smooth soulful sounds of the Small Jazz Band with its magnificent instrumental solos
the amazing talent of the Junior Years Jazz Band
the very outrageous Staff Band led by iconic vocal teacher Rohan Powell
As the night drew to a close, there were seven Year 12 students who have been involved in the ensembles for years, and so, in keeping with tradition, they were presented with their good luck music tie pins and thanked for their outstanding contributions.
Many thanks go to the music staff, Mrs Tiggemann, Mr Osman and Mr Degeorge for their tireless hours in preparing for the evening. Thanks to Henry Critchley as compere and, as always, The Music Support Group, with Nikki Zorzi at the helm and a brilliant group of helpers who have been a fantastic source of support for all the music staff and students.
Congratulations to all on what was a wonderful evening.
Peter Waterman
Head of Arts
2019 Term Dates
Term 1: Wednesday 30 January to Friday 12 April 2019
Term 2: Tuesday 30 April to Friday 28 June 2019
Term 3: Monday 22 July to Friday 27 September 2019
Term 4: Monday 14 October to Friday 06 December