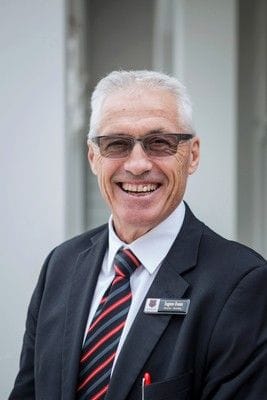 This term was particularly busy with many new students arriving to commence their schooling here at Rostrevor. A strong contingent from the Eyre Peninsula region is pleasing to see, I'm sure they will enjoy every minute. We welcome Joshua and Thomas Bradford, Thomas Laas, Jesse Trevor, Jayden Gale and Nash Richman from the Riverland region. In addition, Darshan McLean, Denzel Smith and Alex Jost have joined us from the day school. We wish all boys a successful transition into boarding life.

On the staffing front we welcome Tamara Hahn, Nick Plumb and Brodie Clement to our team. Both Tamara and Nick work as ESO's within the College, while Brodie is currently involved with some coaching of our junior boys Basketball. We appreciate their expertise and presence around our boys.

Our football fixture is now behind us for season 2019. A huge thank you to all boys who participated throughout the term. Our 10A's played a great brand of football at Intercol against Sacred Heart College, however just missed out going down narrowly in the last few minutes. Other games throughout the day also found the opposition too strong. Results can hopefully be turned around next year on our own turf. On our Rugby front we must congratulate Christian Wills for his representation in the U-18 State side. His games were played in Canberra. Awesome stuff Christian.
Thank you to the students, staff and parents for participating in our most recent Boarding Review. This opportunity to explore possibilities and improve our facility is much appreciated. May our combined ideas and wishes be met throughout this process.
This term our spare time still seems to centre around football, however some activities have struggled to get off the ground due to lack of numbers or at times inclement weather, however our boys thoroughly enjoyed the Bowling Challenge organised by PAC, with Harold Marranya starring for Rostrevor. The Indigenous boys attended the Bounce facility for an hour with other Colleges, then enjoyed some locally made pizzas for tea. Our Year 12's found the Escape Rooms rather challenging, particularly the Bermuda Triangle test. Pulling their heads together but arguably lead by Lachlan Read, one team successfully solved the mystery, escaping in 43 minutes. The others toiled for the entire 60 minutes but failed to pass, however they were fully immersed in the whole adventure. Many thanks to Mr. Walker for organising the event. On returning Ross Pezos and his Pop cooked up a lamb on the spit as an end of year treat.it was delicious, boys spoke highly of the meal. Well done Ross.