Faulkner Park Toilet Upgrade Complete
Brisbane City Christmas Events
Annerley Road Safety Upgrades
Portable Flashing Speed Sign Hyde Rd, Yeronga
Brisbane International - Don't Forget Your Parking Permits
Tennyson Ward Office Closure
Kerbside Collections 2018
Road and Construction Works
---
Items marked with * require bookings.

Contact the relevant library or
3403 8888.
---
---
Babies, Books and Rhymes
Fridays 9.30
Corinda Library
Toddler Time
Wednesdays 9.30
Corinda Library
Children's Storytime
Thursdays 9.30am and Saturday 9.30am
Corinda Library
---
---
FAIRFIELD LIBRARY
eBay and Gumtree basics*
2-3:30pm, Fri, 15 Dec
Basic computer and internet skills required.
Computer skills one*
2-3:30pm, Fri, 22 Dec
Perfect for the first time user.
Internet skills one*
2-3:30pm, Fri, 5 Jan
Basic computer skills are required.
ANNERLEY LIBRARY
Social media basics*
10-11:30am, Tues, 12 Dec
Basic computer and internet skills required.
Email skills one*
10-11:30am, Tues, 9 Jan
Basic computer and internet skills required.
Annerley Library
CORINDA LIBRARY
Computer skills one*
11am-12:30pm, Wed, 13 Dec
Perfect for the first time user.
Computer skills two*
11am-12:30pm, Wed, 20 Dec
Build on your skills by learning how to create basic word documents, find useful programs, and manage files and folders on a windows computer.
Online safety and security*
11am-12:30pm, Wed, 27 Dec
Basic computer and internet skills required.
Facebook basics*
11am-12:30pm, Wed, 3 Jan
Create your own account and learn how to use Facebook so you can stay in touch with family and friends online.
iPad skills one*
11am-12:30pm, Wed, 10 Jan
Perfect for the first time user. Bring your own iPad.
---
---
Aqua Yoga
9:30-10:30am, Fridays
Until 15 Dec
Dunlop Park Pool, Corinda
---
---
Fairfield Writers' Group
Every second and fourth Saturday
Please call Helga on (07) 3848 1492 for more information.
Fairfield Library
Southside Community Craft Circle
Every first Tuesday
This craft group makes clothes, rugs and toys to support disadvantaged children in Queensland. New members welcome. Please call Wendy on (07) 3341 2039 for more information.
Fairfield Library
Yeronga Friendship Club
Every third Monday
Activities and outings for over 50's.
Yeronga RSL
391 Fairfield Rd, Yeronga
Ph: 3278 5720
Yeronga Men's Shed
9am-12pm Monday and Wednesday
Yeronga Uniting Church
Kingsley Pde, Yeronga

Organic Gardening Group
9am Tuesdays
Annerley Community Hub
556 Ipswich Rd, Annerley

Annerley Stephens History Group
Meets first Thursday of the month from 6.30pm
Annerley Community Hub
556 Ipswich Rd, Annerley
For more info contact
Stephen: 0417 770 176 or email
Bill: 0417 713 200 or email

Yeronga Bowls Club
Game Days - From 12:30pm, Wed and Sat
3848 1146 (3-7pm, Tues to Sun)
11 Querrin St, Yeronga
---
---
Seniors Morning Tea
10am-12pm, Mondays
Seniors Gentle Yoga
9:30am-10am, Mondays

Mindful Yoga
6-7pm, Mondays
$10 waged, $5 unwaged (held at Anglican Church Hall - 24 Killarney St, Yeronga)

Community Breakfast
7:30-8:30am, Wednesdays during the school term
Everyone welcome

Computer Assistance
10-11am, Wednesdays

Guided Meditation
10-10:30am, Thursdays

Craft Group
10:30am-12pm, Thursdays

Art Classes
10:30am-12pm, Thursdays

Yoga
6-7pm, Thursdays
$10 waged, $5 unwaged

Yeronga Community Centre
3848 2285
Cnr Villa St and Park Rd, Yeronga
---
---
Community Breakfast
8am-9am, Thursdays

Community Garden
9am, Tuesdays

Annerley Hub
9am-12pm, Tuesdays

Swap Shop
9am-12pm, Tuesdays

Small Change Cafe
12-4pm, Wednesdays and Thursdays

Meditation
1-2pm, Mondays

Computer Class
9am-12pm, Wednesdays

Annerley Community Hub
3848 2285
556 Ipswich Rd, Annerley
---
---
Social Group
10am-12pm, Mondays
$3 per session
Sherwood Neighbourhood Centre

Graceville Social Soccer
Friday mornings from 6am to 7am
Graceville Memorial Oval
Players of all standards welcome for an easy going kick around (no hard tackles!).
Contact Paul if you would like more information: 0414 228 736

Nature Babes
9:30am - 11:30am Wednesdays
0-5yrs Playgroup
Benarrawa CDA
79 Waratah Ave, Graceville
Ph: 3379 9925

English Classes
Advanced: 10am -11:30am Tuesdays
Beginner: 10am - 11:30am Thursday
Acacia Ridge Community Centre

Parenting Conversation Corners
1:30 - 2:30pm Thursdays
Indooroopilly Uniting Church

Western Suburbs Asperger Support Group
7pm on the 3rd or 4th Thursday of the month
Jane 0448 909 863
St Matthews Church Hall, Sherwood

Chelmer Speakers Group
Learn to speak in public and enjoy it
Sherwood AFL Club
41 Chelmer Street East, Chelmer Brisbane Qld 4075

Ukulele Community Group
2pm - 4pm Sundays
Ph: Ian on 0439 715 144
Corinda State School
---
---
Sherwood Senior Citizens' Club
9am-12pm Every Thursday
Uniting Church Hall, Cnr Sherwood Rd and Thallon St, Sherwood
Morning tea at 9am followed by group meeting and activities
For more information ph: Margaret 0407 075 446

Rotary Club Taylor Bridge
Tuesdays 6:30pm
Corinda State High School
Ph: 3379 2002 for more details.

Chelmer and District Probus Club
9.45am Every fourth Tuesday of month
Corinda Bowls Club, Hall Avenue
Kathy - 3379 7237 for more details

Sherwood Probus Club
Every 3rd Friday of month
Magpies AFL Club
Chelmer St E, Chelmer
3372 7525 for more details
---
---
Oxley Creek Common Carers
Tuesdays 7-9am
Volunteer weeding group
Meet at the red shed
Sherwood Rd, Rocklea
Ph 0429 911 555

Gardening Club
10am every second Tuesday
Acacia Ridge Community Centre

Sherwood Arboretum Working Bee
8am - 10am every third Sunday of the month
Joseph Street Garden Shed, Sherwood

Graceville Community Garden
Sundays 7am
Benarrawa Community Centre
79 Waratah Ave, Graceville
Ph: 3379 9925
Hi everyone,
What a busy year it's been in 2017 and 2018 is shaping up to be busier than ever. Congratulations to all the primary and high school students who have graduated over recent weeks. We have the best schools in Australia right here in Tennyson Ward and it has been amazing to celebrate the diverse achievements of young people, their families and teachers in our community at their awards events and graduations.
There are a range of Christmas events on across the ward over the next two weeks to help you get in the festive spirit, from carols and Christmas story time to festive shopping events. Check out the details below for what's on in your neighbourhood.
Also our Council libraries are running their annual Christmas fine amnesty. During December, Council will waive any library fines when you donate a non-perishable food item or two. Now is the time to bring back those outstanding books or let Council know about a lost book and help those in need at the same time.
Finally, the State election is over and for many in the Ward there are two new State Members. Mark Bailey, Member for Miller previously Yeerongpilly (Chelmer, Graceville, Tennyson, Yeronga, Yeerongpilly, Fairfield and parts of Sherwood and Annerley) and Jess Pugh, Member for Mt Ommaney (Corinda, Oxley and part of Sherwood) are the new faces in some areas. Jackie Trad, Member for South Brisbane, Annerley (part) has been returned in South Brisbane. I'll be working with them to progress joint Council - State issues and to support the wonderful community services in our district.
Finally, thank you for your feedback, comments and support throughout 2017. We've had some wins and there are still some challenges too, but it's been a wonderful year locally and I am so proud to represent our community at Council. I look forward to working for you again in 2018.
Merry Christmas and best wishes for a safe and happy New Year,
Nicole.
Ps. The ABC's Christmas appeal this year is supporting Meals on Wheels. We have two local services at Yeronga and Sherwood who do a brilliant job helping the elderly in our community. If you are looking for a Christmas cause to donate to then this is a great one that will help locally and around Queensland!
FAULKNER PARK TOILET UPGRADE COMPLETE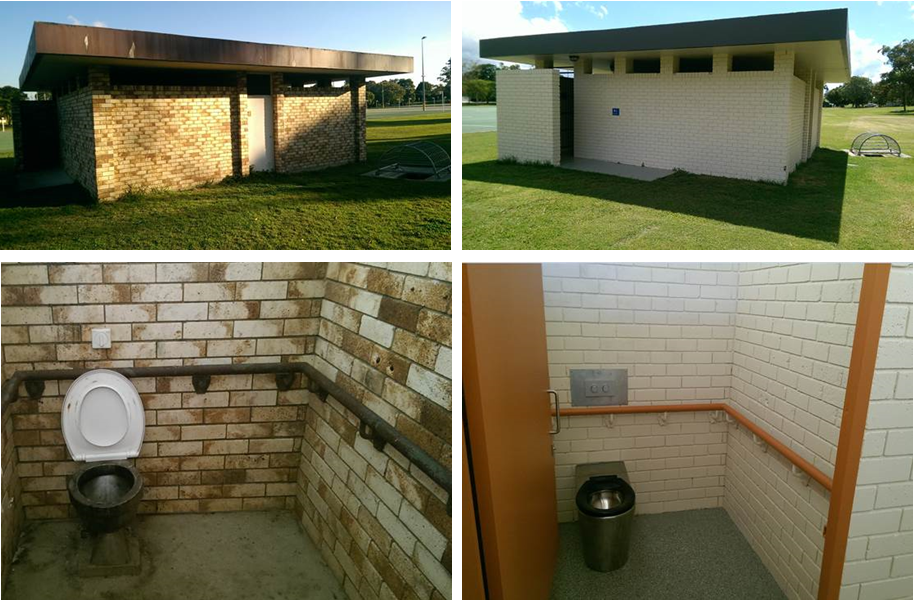 The toilet facility refurbishments at Faulkner Park, Graceville is complete and what a difference it has made!
Works undertaken included installing new toilets and cisterns, knee operated hand basins and polished stainless steel mirrors. The concrete floors have been acid cleaned, sealed and coated and the exterior has been pressure cleaned and painted.
The disabled cubicle doors have been enlarged in both the male and female toilets to provide better access, while there's also new exterior signage to designate the male and female toilets.
This was a much needed upgrade for the popular netball courts and has provided much better facilities for those utilising Faulkner Park.
BRISBANE CITY CHRISTMAS EVENTS
Oxley Community Carols
Sunday, 17 December, from 5pm, Oxley State School Oval
There will be a range of free children's activities, such as a jumping castle, animal farm and food stalls.
Carols at St Luke's, Tarragindi
Carols at St Luke's will be held on 10th December, starting at 5.30pm with a sausage sizzle, fellowship and fun on the green prior to a service and Christmas carols, which will commence at 6.30pm. All are welcome. This year's theme of "A Bush Christmas " will provide a mix of traditional and Australian Carols. 193 Ekibin Rd E, Ekibin.
Christmas Lights
There's nothing better to get you into the Christmas spirit than looking at Christmas lights. Families Magazine have made a list of the best Christmas lights and accompanying driving route maps for your local area. Visit their webiste here to view the best route for your area.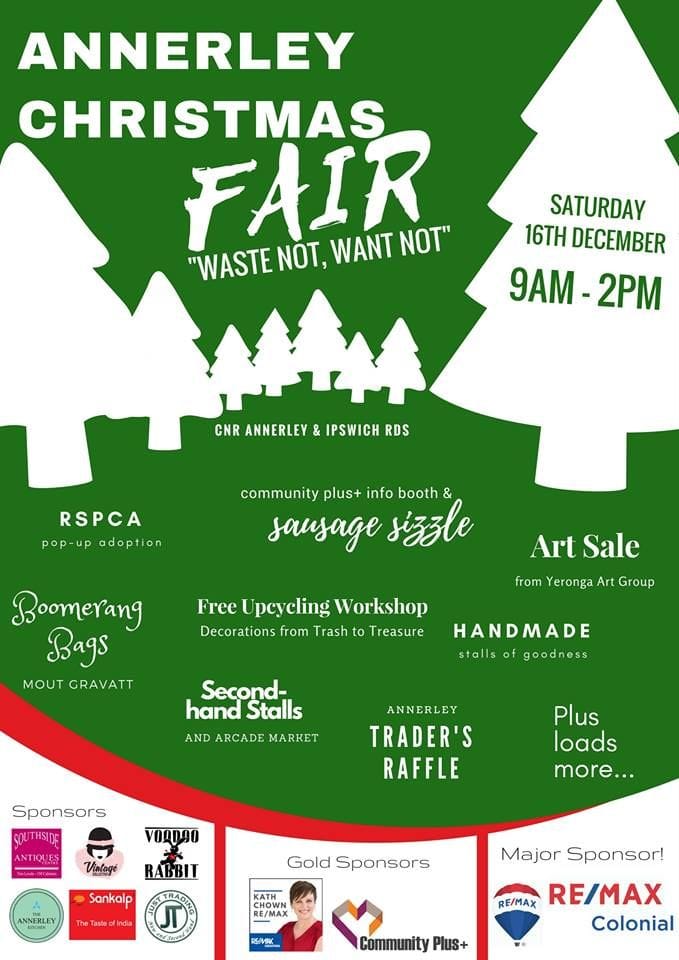 ---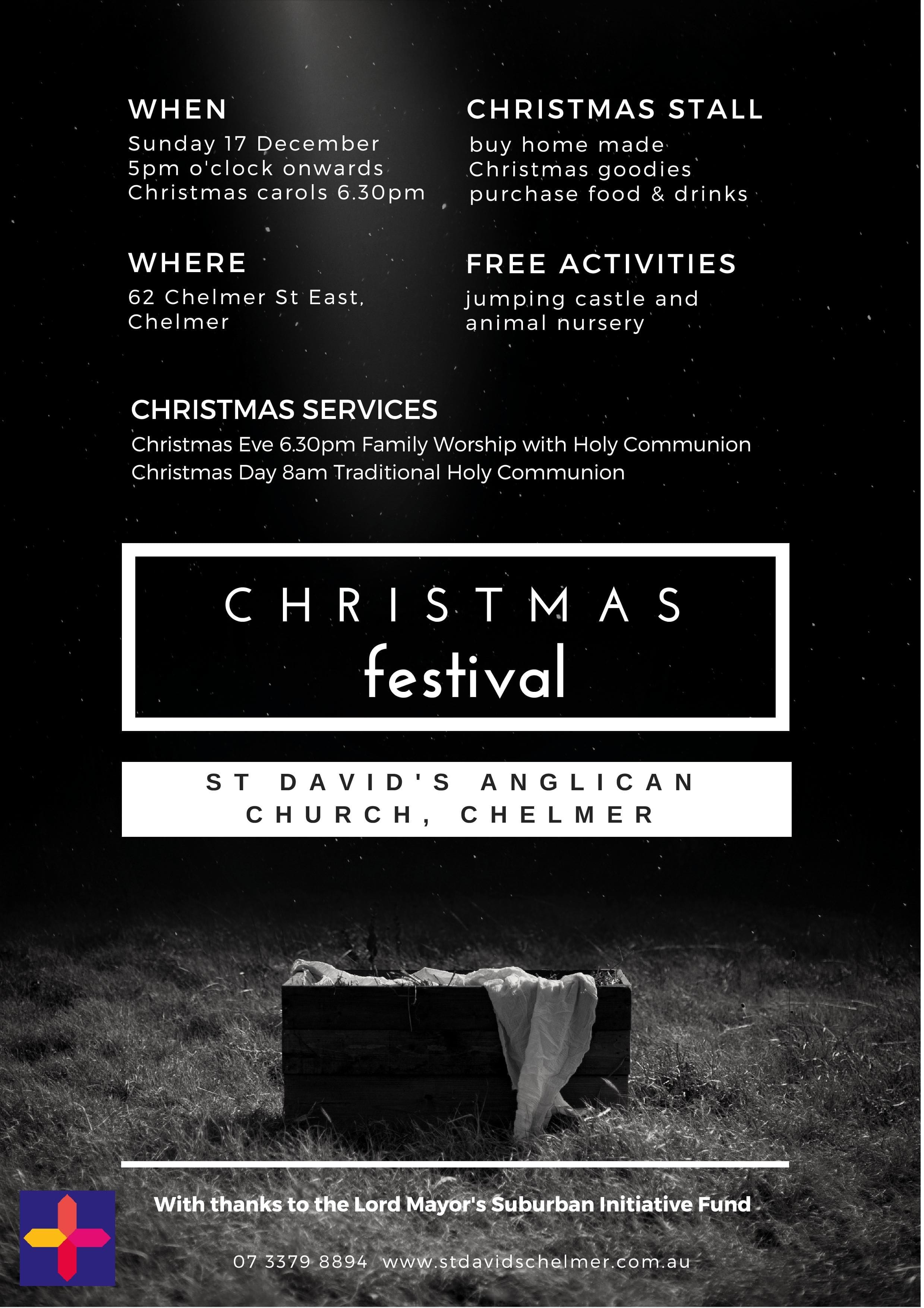 City Hall Light Spectacular
8-24 December, 15 minute shows from 7.30pm-midnight King George Square
This will be The City's most colourful and spectacular Christmas projection yet, and one for all ages to enjoy. The light show will run every 15 minutes from 7:30pm until midnight.
The Enchanted Garden
8-17 December, 6:30 - 9:30pm Roma Street Parkland
As the sun goes down and the evening settles in, Roma Street Parkland's Enchanted Garden springs to life. From 8-17 December, the Garden will be adorned with twinkling lights, beguiling decorations and mellow music meander through, enjoying a festive feast for the senses.
Christmas Movies in the Park
8-17 December from 5:30pm Roma Street Parkland
Pack a rug and a picnic and catch all of your favourite Christmas classics as you lay back in the warm summer air at Christmas Movies in the Park. Held at Roma Street Parkland's picturesque Amphitheatre precinct from 8-17 December, the event also features a selection of tasty food trucks to buy dinner and drinks. Movies start at 7pm nightly.
Friday, 8 Dec: National Lampoons Christmas Vacation
Saturday, 9 Dec: Elf
Sunday, 10 Dec: Home Alone
Monday, 11 Dec: Love Actually
Tuesday, 12 Dec: The Nativity Story
Wednesday, 13 Dec: Deck the Halls
Thursday, 14 Dec: Four Holidays
Friday, 15 Dec: How the Grinch Stole Christmas
Saturday, 16 Dec: The Polar Express
Sunday, 17 Dec: Miracle on 34th Street
Lord Mayor's Christmas Carols
9 December, doors open 4pm, event from 7-9pm, Riverstage
It's time to ring in some Christmas joy! The Lord Mayor's Christmas Carols is a much-loved free family event presented by the Brisbane City Council featuring some of Australia's most renowned singers and entertainers. Please note that the event reaches capacity very quickly and it is best to arrive early.
Christmas Parade
15-24 December, nightly at 7pm Queen Street Mall to King George Square via Albert St
Brimming with music and merriment, the parade comes complete with a nativity scene, Santa and dozens of performers to entertain and delight all ages. It's on nightly from 15-24 December and commences at the Edward Street end of the Queen Street Mall. It then weaves its way through our vibrant city, culminating at King George Square.
Christmas Beach Cinema
16-23 December, Streets Beach, South Bank
Forget snowmen and make a sandman instead at South Bank's Christmas Beach Cinema at Streets Beach. Snuggle up on a picnic rug under the stars or dive-in to the cool waters and enjoy Christmas family favourites on the silver screen.
South Bank's Christmas Markets
15-23 December, South Bank Parklands
Offering a range of traditional Christmas gifts, keepsakes, delicious fare and ornaments accompanied by the festive sounds of live music and carollers, South Bank Christmas Markets make gift shopping a merry experience.
Christmas Fireworks
20-23 December vantage point best from Clem Jones Promenade, South Bank
Electric fireworks displays will light up the night sky over four nights this December. Bring the whole family along to the Clem Jones Promenade to enjoy a dazzling array of pyrotechnics that will take you on a magical Christmas journey.
Chanukah in the City
17 December, 4-8pm - Reddacliff Place
Chanukah is the Jewish festival rejoicing the triumph of light over darkness. Celebrate with the Jewish community in Reddacliff Place, as a six-metre tall sacred candelabrum with nine branches, called a Menorah, is lit. Enjoy live music, community stalls, food, children's entertainment and rides in the heart of Brisbane City.
Christmas maker space*
Friday, 15 and Wednesday 20 December, 3:30-4:30pm
Ideal for children aged 6-10 years and their carers.
Indooroopilly Library
Christmas craft
Saturday 16 December, 10-10:30am
Join us after our special First 5 Forever Christmas themed storytime and make seasonal craft. Ideal for children aged 2-5 years.
Fairfield Library
'Twas the Night Before Christmas storytime
Saturday, 16 December, 10-10:30am
Join a special reading of the classic story 'Twas the Night Before Christmas and holiday craft. Ideal for children aged 2-5 years.
Annerley Library
Christmas maker space*
Saturday, 16 December, 10:30am-12:30pm
Enjoy free school holiday craft activities with a Christmas theme. Ideal for children aged 6-10 years and their carers.
Annerley Library
Bunnyhop and friends: A Christmas stocking of stories*
Thursday, 21 December, 10-11am
Storyteller Chris Thompson and her puppet friends unpack a surprise package of Christmas stories. This is an interactive show for children of all ages and their carers.
Fairfield Library
Christmas storytime
Thursday, 21 December, 2-2:30pm
Join in the yuletide fun of listening to some wonderful stories, old and new.
Corinda Library
Bazil Grumble: Page to stage The Nutcracker*
Thursday, 21 December, 10:30-11:30am
Faces will light up as they explore acting and presentation techniques including posture, gesture and movement, and vocal skills including expression, clarity and projection. Ideal for children aged five years and older.
Indooroopilly Library
Maker space*
Friday, 22 December, 2-4pm
Make a great Christmas gift bag for your family and friends.
Corinda Library
'Twas the Night Before Christmas storytime
Saturday, 23 December, 11-11:45am
Join a special reading of the classic story 'Twas the Night Before Christmas and holiday craft. Ideal for children aged 2-5 years.
Indooroopilly Library
For more great Christmas and holiday events, visit Brisbane City Council's 2016 Christmas Events page here.
To find out more about what's happening throughout Brisbane, you can also follow Council's What's On Brisbane Facebook page here.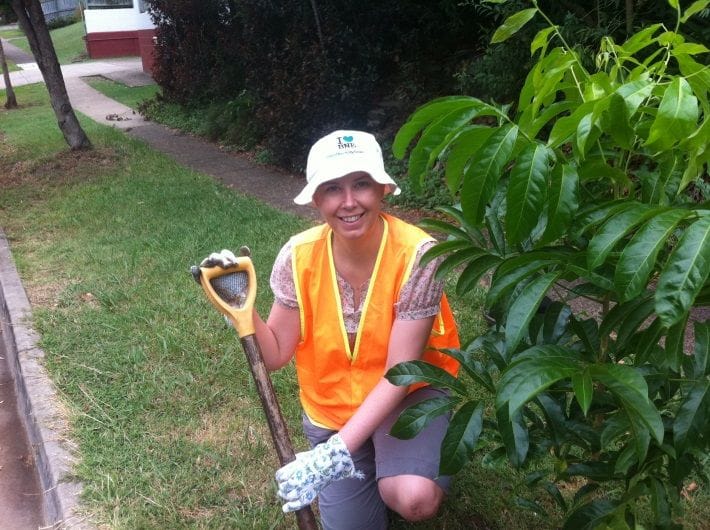 In coming months, Council will undertake extensive tree planting along Seventeen Mile Rocks Road, Oxley. 90 trees are proposed for planting along the section between Fort Road and the train line on both sides of the road. Residents along this section will be consulted on the plantings and given the option to remove their frontage from the planting.
During resident notification, tree trimming will also be undertaken along this section of road to improve pedestrian access and vision. This will be undertaken during the Tennyson Ward's tree maintenance cycle next scheduled for February.
ANNERLEY ROAD SAFETY UPGRADES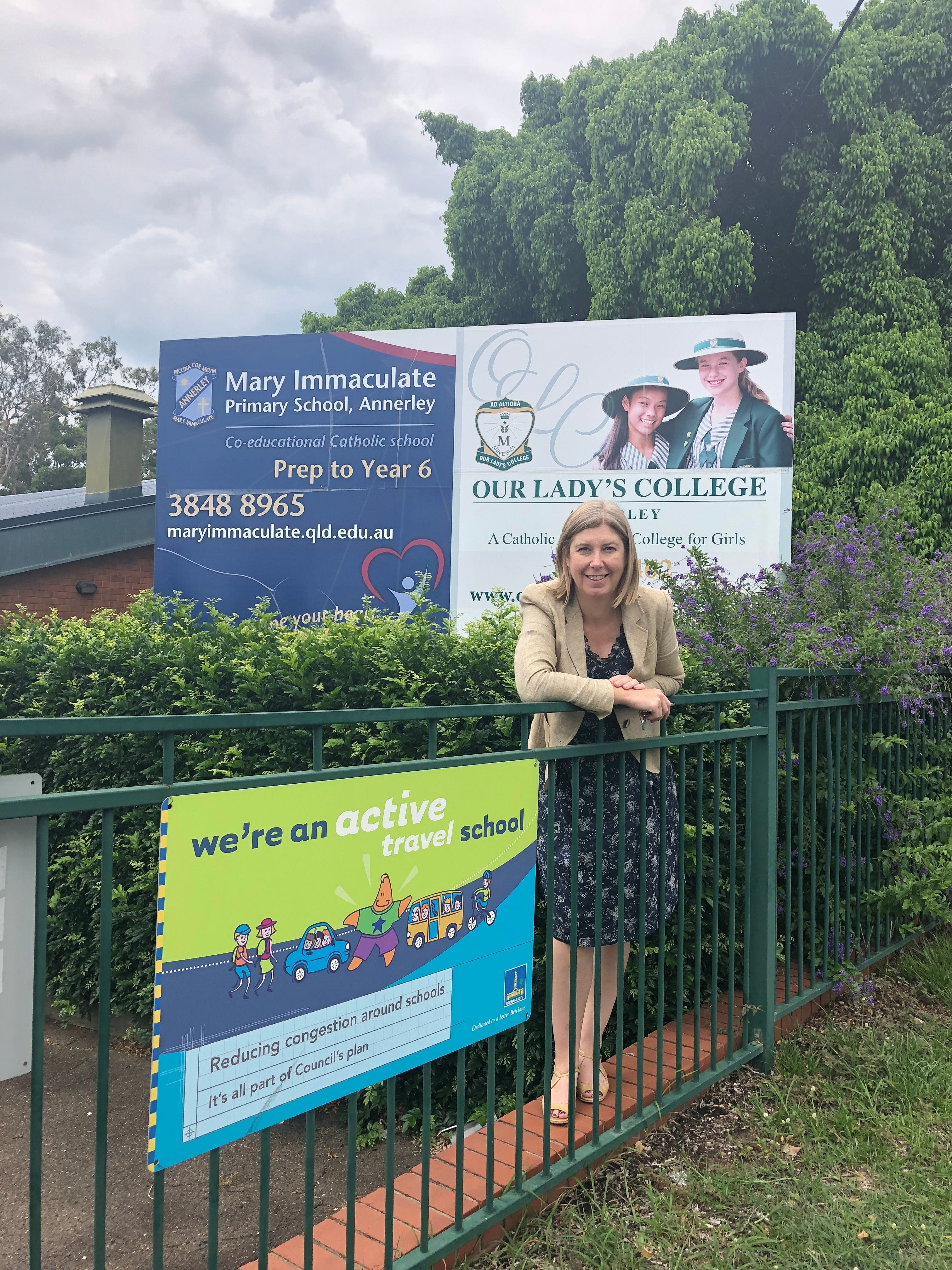 SCHOOL ZONE TREATMENT FOR IPSWICH RD, ANNERLEY
Council has agreed to install a 275m inbound and outbound 40km/h school zone with flashing signage on Ipswich Rd outside Mary Immaculate Catholic Primary School. This is an important safety measure to help protect school students using the green walk signal outside Mary Mac and Our Lady's.
The new signs and lines will be installed in March, 2018 during school holidays. This is such good news, as it was a big issue raised with me at the recent Annerley Town Hall meeting. We will have to keep pushing for an Annerley Junction speed reduction, but this is great news for school students who need to cross the road near Mary Mac and Our Lady's.
PEDESTRIAN COUNTDOWN TIMER AT IPSWICH RD AND DUDLEY ST
Pedestrian countdown timers will be installed at the intersection of Ipswich Rd and Dudley St before the end of the year. This is great news for those using the intersection, which is close to Junction Park State School, popular shops and bus stops.
The green walk signal here was also recently extended by five seconds, giving pedestrians more time to cross the busy intersection, which will be made even safer with the addition of the countdown timer.
Annerley Junction traders and parents from Junction Park State School witness accidents and near misses every day at this crossing. It is dangerous and lives are being needlessly put at risk. Major improvements to the crossing were completed in 2012 following a community petition of more than 600 local residents. It is staggering how many cars still seem to run through the red light putting pedestrians at risk.
PETITION FOR TRAFFIC STUDY ON IPSWICH RD
The local community has started a petition asking Council to undertake a metropolitan traffic planning study investigating the safety and efficiency of Ipswich Road. Support and funding is being sought for traffic management and landscaping solutions to improve the area's safety and amenity, including upgrades at intersections identified as problems by the survey and meeting: Annerley Junction, Venner Rd/Waterton St and Chardon's Corner. Sign the petition here.
EAST SUBURBS
Maker space
10am-3pm, Saturdays during school holidays
1-4pm, Tues-Fri during school holidays
Drop in and be crafty. Make your selection from a range of art and craft activities. Ideal for all ages. Not on public holidays.
Fairfield Library
Tinker table: Cubelets
3:30-4:30pm, Thurs, 7 Dec
10-11am, Thurs, 14 Dec
2-3pm, Sat 16, Dec
Drop in for some hands-on experimenting with Cubelets. These magnetic modular cubes can be snapped together in multiple ways to build all kinds of robotic creations. Ideal for all ages.
Fairfield Library
Bazil Grumble: Fantastic Mr Fox*
10-11am, Fri, 10 Dec
Inspired by the delightful tale of Fantastic Mr Fox by Roald Dahl, children will engage in an interactive drama and puppetry workshop. Ideal for children aged six years and older.
Live performance: KoalaRumba by Blue Gum Farm
2-2:30pm, Wed, 20 Dec
A celebration of life in the Australian Outback! Ideal for children aged 0-6 years.
Fairfield Library
Sphero and the enchanted forest*
9:30-11am, Wed, 20 Dec
Help Sphero find his way through the enchanted forest using simple coding skills. No prior programming experience required.
Annerley Library
Maker Space*
2-3pm, Mon, 8 and 15 Jan
Enjoy free school holiday craft activities. Ideal for children aged 6-10 years and their carers.
Annerley Library
Cartoon Dave workshop: Spectacular sea creatures*
1-2pm, Tues, 9 Jan
Join Dave as he shares his cartooning skills in this fun and interactive workshop. Ideal for children aged 6-12 years.
Annerley Library
Slime and snow workshop with Street Science*
10-11am, Thurs, 11 Jan
Mix chemicals (safe ones!) together and watch the amazing change from liquid to ooey-gooey glow-in-the-dark bubble slime right before your eyes! Ideal for children aged 6-12 years.
Fairfield Library
Go wild for science show*
9:30-10:15am, Fri, 12 Jan
Presenters will ignite your imagination and show you wild demonstrations that will leave you cheering for more. Ideal for children aged 6-12 years.
Annerley Library
Magic manga*
10-11am, Thurs, 18 Jan
In this workshop, you will be guided by one of Australia's most well-known manga artists and authors as you create your version of one of his characters and then create your own special manga character. Ideal for those aged 9-14 years.
Fairfield Library
WEST SUBURBS
'I Want to be in a Book' workshop*
2-3pm, Wed, 10 Jan
Lots of inspiration for summer story writing! Ideal for children aged 6-10 years. Ideal for children aged 6-10 years.
Corinda Library
The story of collage*
2-3pm, Thurs, 11 Jan
Join artists from the Brisbane Collage Club to learn about basic techniques and styles of collage art, and try your hand at making your own artwork. Ideal for those aged 12 years and older.
Corinda Library
Chess Competition*
10:30am-12pm, Tues, 12 Dec
Test your chess skills and join a friendly competition to see who is the best on the day. Ideal for children aged 14 years and younger.
Indooroopilly Library
Live performance: Red Rocket 3*
2:30-3:30pm, Tues, 12 Dec
Enjoy live music, sing-a-longs, interactive games and a whole lot of fun. Ideal for children aged 3-10 years.
Corinda Library
Funny ferals cartooning workshop with Phil Judd*
10:30-11:30am, Thurs, 14 Dec
Learn to draw Australian feral animals using simple shapes and discover interesting facts about them along the way! Ideal for children aged 7-14 years.
Indooroopilly Library
Engibears - Dream, draw and design*
2-3pm, Thurs, 14 Dec
Join engineer and author of the Engibear series, Andrew King. Ideal for children aged 4-11 years.
Corinda Library
Storytelling: Warriors and wizards*
2-3pm, Fri, 15 Dec
Ideal for children aged eight years and older and their carers.
Corinda Library
Creative Teens*
10:30am-12pm, Fri, 15 Dec
Improve your knowledge and skills by learning a variety of art techniques and creating your own masterpieces. Ideal for those aged 12-17 years.
Indooroopilly Library
Live performance: The Proud Foots*
10:30-11:30am, Tues, 19 Dec
Join performer and author of Shaka Shaka Hawaii, Lucas Proudfoot, in this special performance of his new book. Ideal for children aged 5-12 years.
Indooroopilly Library
How to build a computer*
11am-3pm, Wed, 20 Dec
Learn how to build a fully functional Raspberry Pi computer from scratch, then learn programming and engineering concepts using Minecraft Pi Edition games. Ideal for children aged 11-14 years.
Indooroopilly Library
Sir Thomas Brisbane Planetarium
The planetarium has a wide range of activities on offer these school holidays. Visit Council's website here to view the full itinerary of events.
Visit Brisbane has a great list of school holiday ideas to suit all ages on their website here.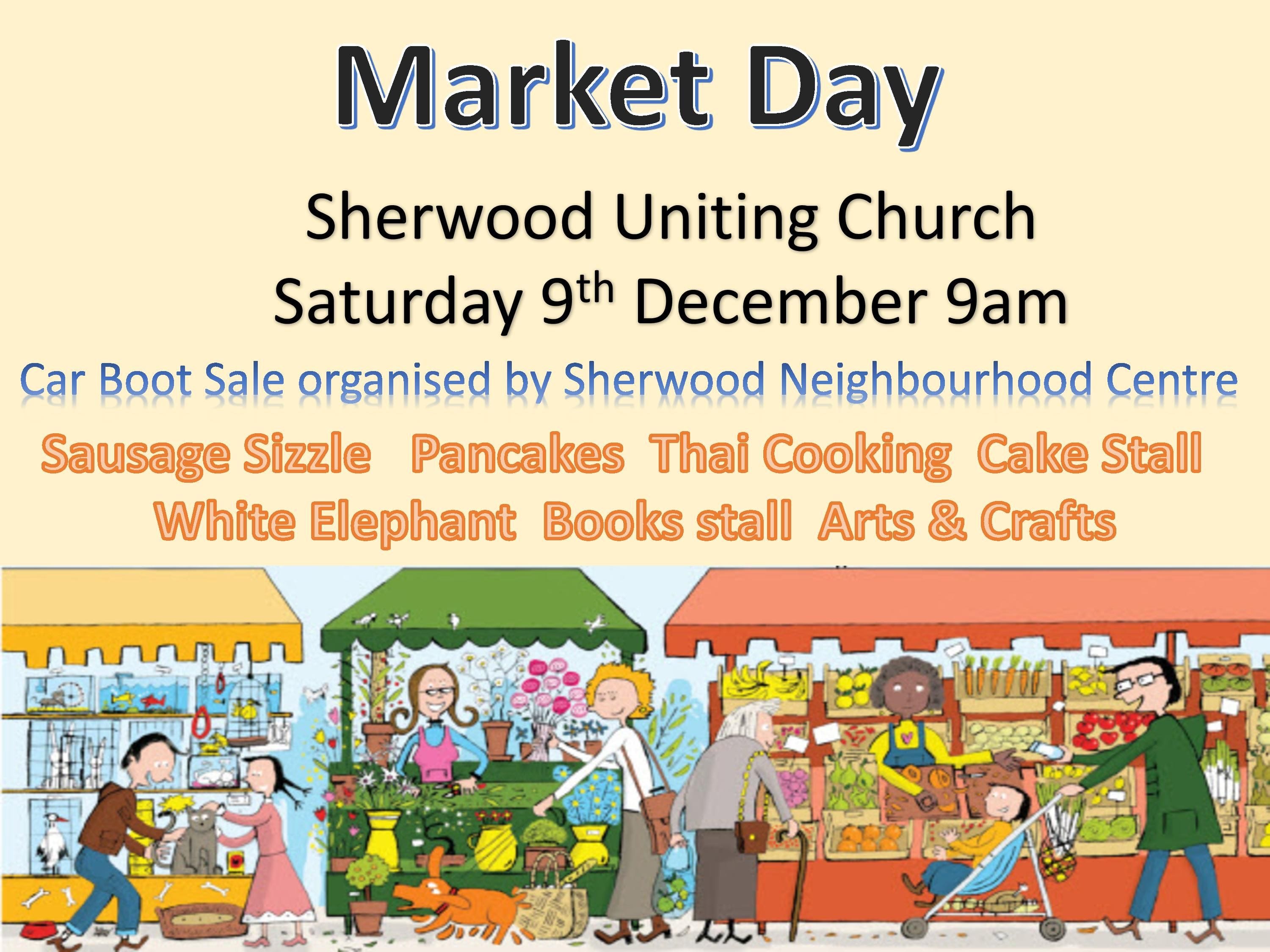 ---
CENTENARY THEATRE GROUP 2018 SEASON LAUNCH
Sunday 10 December at 2pm
All welcome - drinks and nibbles provided. Come along and see what the group have planned to entertain you with in 2018.
Chelmer Community Centre
Cnr. Queenscroft & Halsbury Streets
No booking required
All inquiries 0435 591 720
---
BIRD WALK
Beat the heat and join Friends of Oxley Creek Common at 6.00am, Sunday 17th December for their final bird walk of 2017. Hugh Possingham will lead the group to Pelican Lagoon, returning to the Red Shed for morning tea around 8.30am. RSVP and gold coin donation appreciated. Email here to RSVP.
---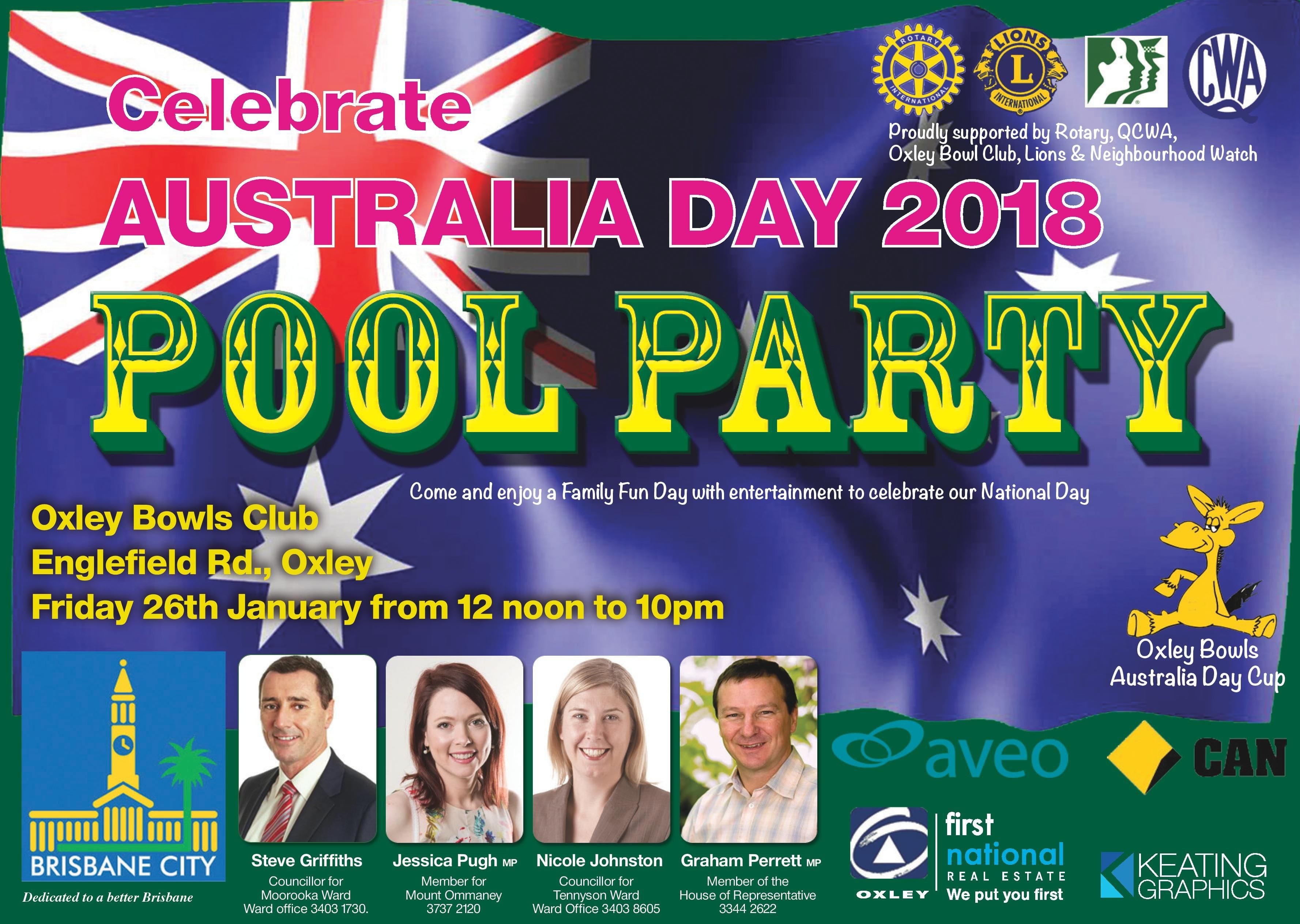 ---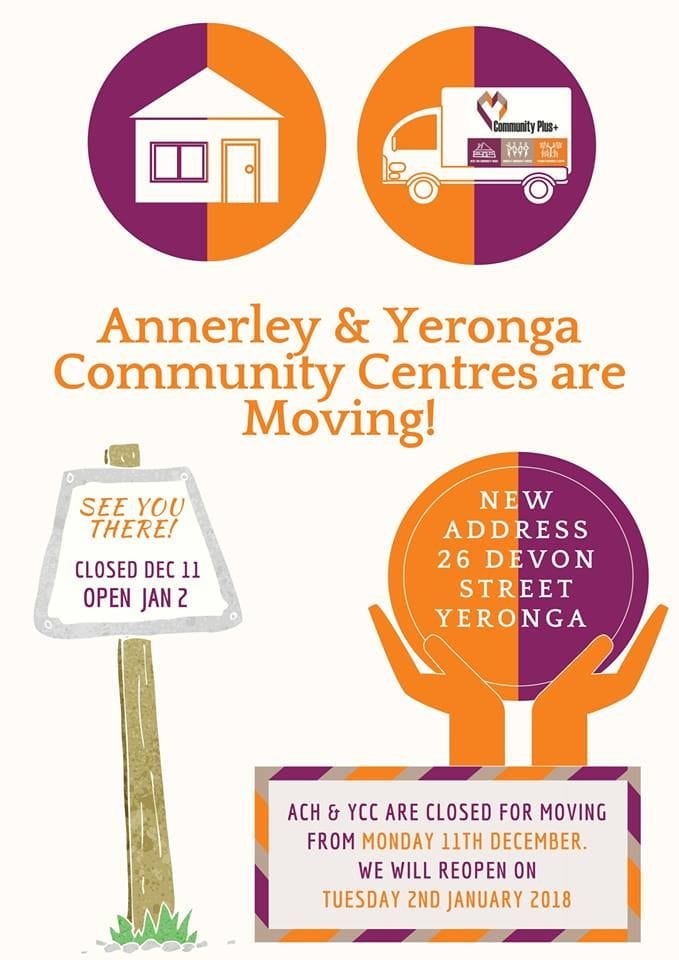 PORTABLE FLASHING SPEED SIGN HYDE ROAD, YERONGA
Council's flashing portable speed sign has been reinstalled outside 105 Hyde Rd, Yeronga.
The portable flashing speed sign is part of Council's programme to improve road safety around schools and other traffic hotspots. The sign shows a smiley face to vehicles travelling the speed limit and flashes a slow down warning to those speeding. The sign should help to quell speeding vehicles and make the area much safer.
The sign provides Council and the police with reliable information about traffic volumes and speeds. It has been shown to reduce traffic speeds in streets where it has been located to date by up to 10kms per hour.
The sign will stay at this location for approximately 6-8 weeks and will be continuously rotated throughout the ward.
The sign is also currently located at King Arthur Tce, Tennyson, Oxley Rd, Graceville and Graceville Ave, Graceville.
BRISBANE INTERNATIONAL - DON'T FORGET YOUR PARKING PERMITS!
The Brisbane International is being held from 31 December to 7 January, 2018. All residential streets within 1km of the stadium will be subject to 1hr parking restrictions, residents and their visitors excepted.
This affects residents in Tennyson, Yeerongpilly and Yeronga who live within the Qld Tennis Centre Parking Area. Each street within the Parking Area is delineated via the newly installed yellow signs under each street sign and the existing signs on major roads. You can also see a map of the precinct here.
In addition to a parking permit, residents living in Ortive and Paragon Streets will also need a pass to access their street. Please visit my office to apply for a parking permit and street pass if needed.
If you reside within a designated street, you can apply for a permit from my office at Fairfield Gardens Shopping Centre, 180 Fairfield Rd, Fairfield during December. When applying, please bring a copy of the current vehicle registration certificate for each vehicle registered to the property, a rates notice or utiility bill, and your driver's licence.
TENNYSON WARD OFFICE CLOSURE
The Tennyson Ward Office will be closed over Christmas from lunchtime Friday 22 December, 2017.
The Office will re-open on Monday, 8 January, 2018 with the standard operating hours of Monday-Friday, 9am-5pm.
For any emergencies over the Christmas break, please contact Brisbane City Council's 24/7 call centre on 3403 8888.
From myself and my staff, I wish you a very Merry Christmas and enjoyable new year.
Commencing Monday, 29 January 2018, Council will be conducting a Kerbside Large Item Collection Service for Tennyson Ward residents.
Items can be left on the kerbside one day prior to the collection commencement date.
Please ensure the following guidelines are observed when placing items on the kerbside for collection:
the piles are tidy so the footpath and/or roadway is kept clear;
piles are no larger than two cubic metres (equal to a small box trailer load) or individual items are not more than one metre long;
doors must be removed from refrigerators and cupboards;
no sharp or dangerous objects;
items must be able to be easily and safely lifted by two people.
Council will not collect unacceptable items placed on the kerb and illegal dumping fines may apply if unacceptable material is not removed. Unacceptable items include the following:
vegetation, dirt, stone, bricks, potted plants;
construction waste;
asbestos;
car parts and tyres;
general household waste;
liquids and hazardous waste (paint, chemicals);
gas bottles;
glass and mirrors.
Week commencing 29 January
Annerley
Week commencing 5 February
Tennyson, Yeerongpilly, Yeronga, Faifield
Week commencing 4 June
Chelmer, Graceville, Sherwood, Corinda, Oxley
ROAD AND CONSTRUCTION WORKS
New Footpath Acacia Ave, Graceville
Outside Graceville State School
7am Monday, 11 Dec to 19 Jan, 2018
Some parking restrictions may be in place in work zones. Affected residents have been notified.
Road Resurfacing
Brisbane Corso, Yeronga: 26 Nov - 7 Dec
Polly St, Annerley: 6-7 Dec
Otaki Rd, Yeronga: 7-8 Dec
Oriana Cres, Yeronga: 8-9 Dec
Athol St, Yeronga: 9-10 Dec
Douglas St, Yeronga: 12-13 Dec
Water Main Replacement Program

Queensland Urban Utilities are currently undertaking works to replace aging sewerage pipes. The following streets are part of the program:
Corinda
Blackheath Rd, Glenrich St and Pratten St
Graceville
Graceville Ave, Tweedale St and Long St E
Sherwood
Coyne St
Yeronga
Hyde Rd and Violet St
Works will take between four and 12 weeks to complete and occur between 6am and 6pm, Monday to Saturday. Some night works may be required 7pm and 5am when the pipe is near a main road and to minimise water outage impacts. Residents will be kept updated on any possible impacts.
STAY SAFE THIS STORM SEASON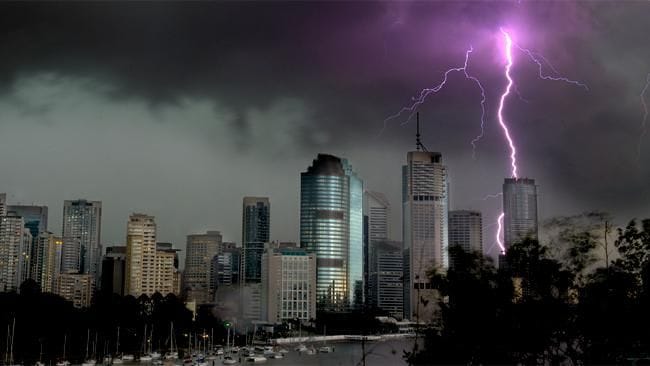 Preparing for Storm Season
Every year, Brisbane experiences severe weather and it's important to take the time to prepare your family, pets and property. The following tips offer advice on what you should have in your emergency kit and how to stay safe before, during and after a severe weather event.
Before the storm season begins, prepare an emergency kit and trim tree branches well clear of your house. You should also:
check and clean your roof, gutters and downpipes
identify loose objects in your yard and on your balcony
have a supply of plastic shopping bags to use as sand bags for emergency storm water diversion
have masking tape and plastic sheeting or large garbage bags available for emergency rain protection
As the storm approaches
When a severe storm approaches, make sure you have your mobile phone close by, and it has a fully charged battery. Listen to a local Brisbane radio station for information and disconnect all electrical appliances. Place your vehicles under cover or cover with tarpaulins or blankets. Shelter and secure your pets and animals.
When the storm strikes
When a severe storm strikes, stay inside, keep away from windows and remain in the strongest part of the house, which is usually the bathroom or cellar. If you are outdoors, find emergency shelter and do not stand under trees.
You should:
listen to your portable radio for storm updates
if driving, stop clear of trees, powerlines and creeks
avoid using the telephone during the storm
Find more information in our online safety during a severe weather event fact sheet.
Visit Council's website here for more tips on how to stay safe this storm season.
In the event of an emergency over the summer period, the Council call centre will be open 24/7 on 3403 8888 and the SES can be reached on 132 500.
BCC Early Warning Alert Service
Brisbane City Council provides free early warning alerts for Brisbane residents and visitors. The alert service, powered by Weatherzone, is intended to provide advance warning of severe weather or other public safety events to help prepare and protect people and property. Sign up here.